Description

Customer questions & answers

Reviews
Koi Beauty Permanent Makeup Derma Pen can be used as a lip liner, lip color, eyeliner, eyebrow pencil, eye shadow, eyelash enhancer, blush, temporary coloring, temporary tattoo, professional make-up, so you can easily have the perfect makeup!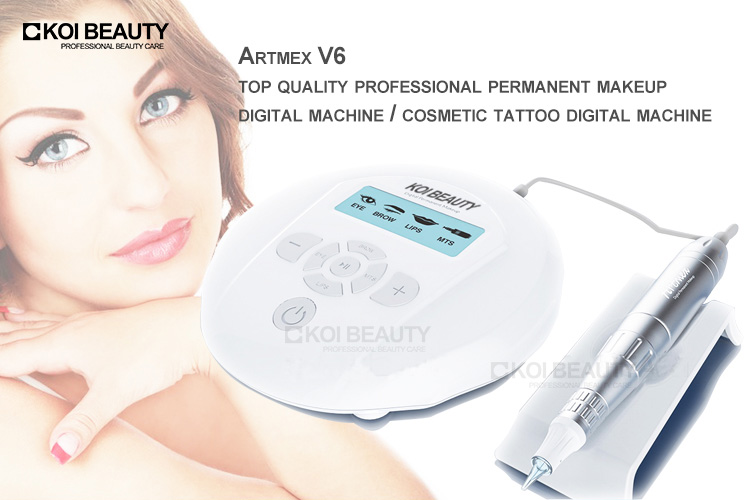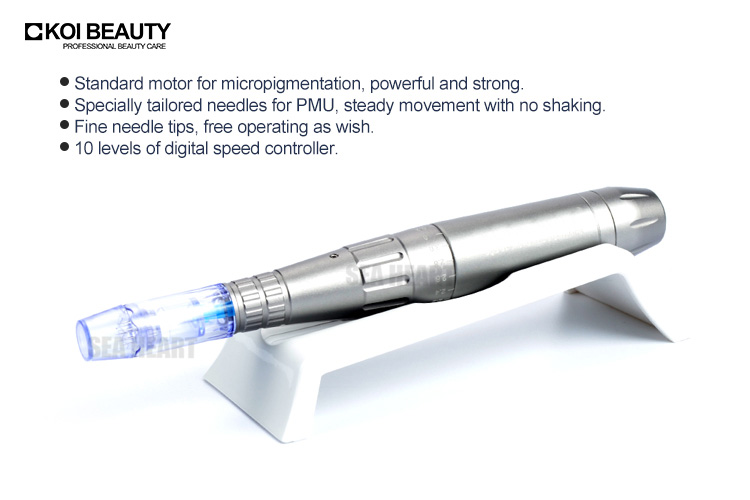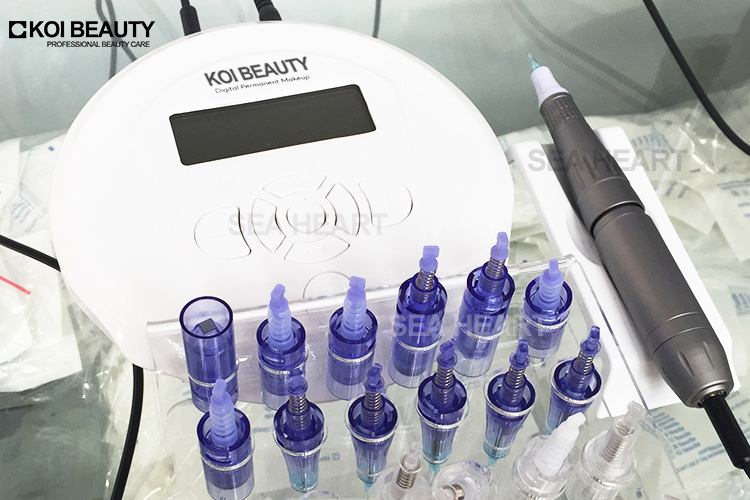 Specifications:



- Model: PMU-V6
- Speed ​​class: 10
- Adapter: 100V
- 240V - Output 4 - 12V
- Size: 280mm * 205mm * 95mm
- Packing size 35 * 22 * ​​12cm
- Weight 2.5 Kg



Why choose us?



- Round small console with dedicated pen care, physical buttons, monochrome screen for current mode and speed.
- Easy to operate, touch button, 1 stroke, low noise, fast, 10 different speeds.
- Working with MTS needles Cartridge. You can use this pen just like Electric Auto Derma Pen. Anti Aging, Remove Stretch Marks Wrinkles, Best Treatment of Cellulite Scar.Adjustable needles length from 0mm to 3.0mm.
- Working with PMU needles Cartridge. Install with PMU needles Cartridge. You can use this pen for Permanent Makeup.Suitable for eyebrows, eyelids and lips, also for tattoo design.
- Applicable to a variety of sizes of needles, you can choose according to Your needs. 1R, 3R, 5R, 5F, 7F, D9, M9, M12, M36, M42, Nano ( 2D, 3D, 5D, 5R )
- We are the real factory, with 10 years' experience in producing, so that We can control the whole producing process well
- Medical CE Certification
- Awesome Customer Service
- Best Affordable Price



HOW TO USE?



1.Place accessories well and connect to amin body.
2.Plug DC charger to AC outlet
3.Click On/OFF to Turn on the machine
7. Install the needles cartridge. Selectable disposable needle cartridge between MTS and PMU for its purpose.
5.Click DOWN / UP to select the speed level. 9 speed levels.
6.Clike START/ PAUSE to make the pen start working
. Adjust the needles depth (0mm to 3.0mm) Needles depth adjustment should be done after the pen working.



PACKAGE:



- Connect line (2pcs)
- Power (1pcs)
- Operating pen (1pcs)
- Operation panel (1pcs)
- Needle ( M12 x 5pcs )
- User manual ( 1pcs )



100% SATISFACTION GUARANTEE:



If you are not 100% satisfied with the purchase for any reason, don't hesitate to contact us to request a refund or replacement. 30 days refund without preconditions. 365 days warranty provided by Koi Beauty.



SAFE NOTIFICATION:



Please do not use the Product if you have open cuts, scars, wounds, sun-burnt skin, active herpes outbreaks, pustule acne lesions, or any other acute infection or inflammation of the skin, have a history of poor wound healing, collagen diseases, blood problems or cancer .

Question:
Can the needle depth be adjusted by twisting the handle?
A:
Yes. This is the internal motor
By Jullian H. on May 23, 2017.

By twisting the front end of the handle, you can adjust the depth of the needle.
Author: Pokey Moe, 2017 Nian 5 Yue 8 Ri

I do not think my needles very long for me, but the only thing I can do is I cut with a sterile needle and cut pliers work well sorry if that The dose helps
Amazon customers

ask questions on May 6, 2017 :
How many injuries?
A:
I bought this machine for my boyfriend. My boyfriend is a tattoo artist. I was surprised that it didn't hurt me at all. I would recommend this machine to anyone interested in buying it.
Author: Stephanie M., 2017 Nian 7 Yue 15 Ri

question:
Do I need to buy power?
A:
No, you don't need to buy a power supply.
By Alisha on April 12, 2017
Working very well, the ink cartridge is great. This machine
ByDeepopon
has confirmed the purchase
on June 1, 2017. I
just got this, the effect is very good, the ink cartridge is great, this machine is very satisfied with the purchase.
I will definitely recommend it.
ByAmazon Customeron May 18, 2017
confirmed purchases are in
full compliance with my expectations. Very quiet, light and well combined! I will definitely recommend it.
Love it so far!
ByGeeta Galawayon Aug. 13, 2017
confirmed that the purchase
is still quite good so far. Running is quieter than normal rotation. The small base makes it easy to feel skin changes (scars) and control is easy. Help cover a lot of things and keep me from being overworked. The owl is my first tattoo on another person. I made a few of myself first.
I am accepting another
ByHeather Shawon confirmed on August 9, 2017 to
purchase
Awesome machines! I chose it just to see what it would do, because it had such a good price, I officially blew away. It is quieter than the coil machine and has less vibration than the coil machine. As far as I know, the impact force of the coil is stronger, but it is easier to maintain and better balanced.
Than the description
ByAmazon Customeron
more
3 July 2017
Verified buy
better than described.This is the best machine I have ever touched.
Amazing product!!!!!
ByCliente de Amazonon June 26, 2017
has confirmed the purchase of
amazing products!!!!!!!
Love it.
ByAmazon Customeron June 24, 2017
has confirmed that buying a
pen is worth it... love it..