Description

Customer questions & answers

Reviews

Special offers & Product promotions
Koi Beauty Permanent Makeup Derma Pen can be used as a lip liner, lip color, eyeliner, eyebrow pencil, eye shadow, eyelash enhancer, blush, temporary coloring, temporary tattoo, professional make-up, so you can easily have the perfect makeup!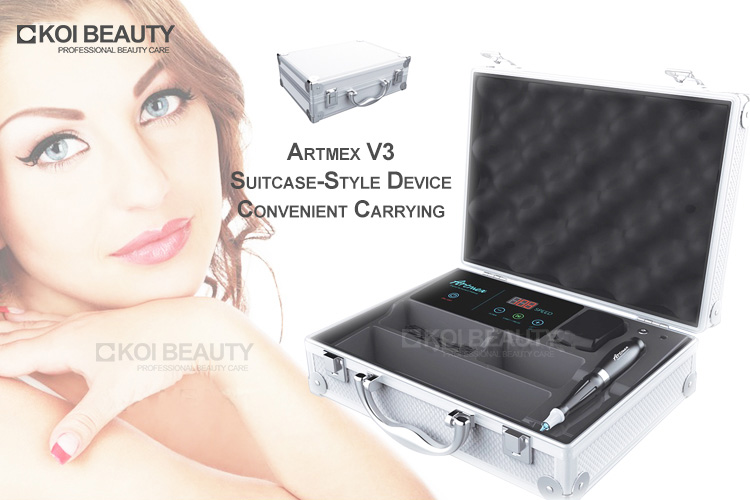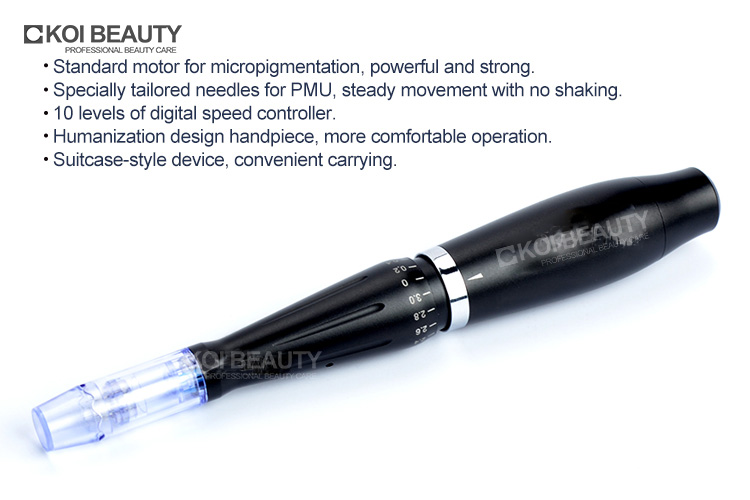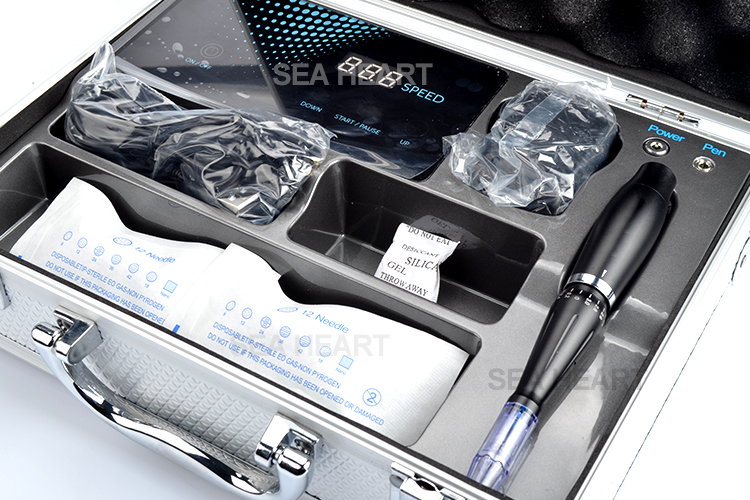 Specification:
- Model: PMU-V3
- Speed ​​rating: 10
- Adapter: 100V -240V
- Output 4 - 12V
- Weight: 1275g
- Size: 280mm * 205mm * 95mm
- Packing size 55 * 35 * 12cm
- Weight 4.5Kg
Why choose Us?
- Aluminum case machine. Easy to carry, suitable for outdoor work.
- Easy to operate, touch button, 1 stroke, low noise, fast, 10 different speeds.
- Working with MTS needles Cartridge. Install with MTS needles Cartridge. You can use this pen just like Electric Auto Derma Pen. Anti Aging, Remove Stretch Marks Wrinkles, Best Treatment of Cellulite Scar.Adjustable needles length from 0mm to 3.0mm.
- Working With PMU needles Cartridge. Install with PMU needles Cartridge. You can use this pen for Permanent Makeup.Suitable for eyebrows, eyelids and lips, also for tattoo design.
- Applicable to a variety of sizes of needles, you can choose according to your needs . 1R, 3R, 5R, 5F, 7F, D9, M9, M12, M36, M42, Nano ( 2D, 3D, 5D, 5R )
- We are the real factory, with 10 years' experience in producing, so that we can Control the whole producing process well
- Medical CE Certification
- Awesome Customer Service
- Best Affordable Price
HOW TO USE?
1.Place accessories and connect to amin body.
2.Plug DC charger to AC outlet
3.Click On/OFF to turn on the machine
4.Install the needles cartridge. Selectable disposable needle cartridge between MTS and PMU for its purpose.
5.Click DOWN / UP to select the speed level. 9 speed levels.
6.Clike START/ PAUSE to make the pen start working.
7.Adjust the needles depth(0mm to 3.0mm) Needles depth Adjustment Should BE DONE After The PEN Working.
PACKAGE of:
- Connect Line (2pcs)
- the Power (1pcs)
- the Operating PEN (1pcs)
- Operation Panel (1pcs)
- the Needle (M12 X 2pcs)
- the User Manual (1pcs)
100% SATISFACTION GUARANTEE:
If you are not 100% satisfied with the purchase for any reason, don't hesitate to contact us to request a refund or replacement. 30 days refund without preconditions. 365 days warranty provided by Koi Beauty.
SAFE NOTIFICATION:
Please do not use the Product if you have open cuts, scars, wounds, sun-burnt skin, active herpes outbreaks, pustule acne lesions, or any other acute infection or inflammation of the skin, have a history of poor wound healing, collagen diseases, blood problems or cancer .

Question:
Hey, it comes with a needle
answer:
it comes with a variety of needles and needle caps. The kit includes 2 MTS12 needles. For permanent makeup, you need to purchase a PMU syringe. You must purchase the dye separately.
Author: Janice T. 2017 Nian 3 Yue 26 Ri

question:
addiotionaly make sure that this project is in line with the statement?
A: The
case and kit are coming. The only problem I encountered was finding a replacement cartridge for it. It is followed by poor quality and damage to the skin.
By the Nellie S 2017 Nian 4 Yue 11 Ri

is a
by Martin M. on April 14, 2017

After-sales service
ByAmazon Customeron July 9, 2016
has confirmed the purchase of
quality kits. There is a small problem, the seller is very satisfied with the project and service.
The result is very good. The ink is placed deep enough. Beautiful thin needles and thicker needles are used to fill the job.
Very happy, a good tattoo machine for small facial work. Anything bigger than the eyebrows, you need a machine designed for this purpose.
Five Stars
ByPam Medlinon February 10, 2017
has confirmed the purchase of
great tools! Glad I found it!
Very satisfied with this product
ByJennyon December 22, 2016
has confirmed that the purchase
is very satisfied with this product. I used this machine to do about 15 clients.
Excellent price machine!
ByAmazon Customeron December 5, 2016
has confirmed purchases
like this machine!
It seems very good
Bymozhganon June 16, 2017
has confirmed that the purchase is
very good

HWA02QWWMVUVM