Description

Details

Reviews

Customer questions & answers
KOI BEAUTY DERMA ROLLER. Derma rolling is a process of creating tiny micro channels in your skin to increase absorption of your products and, mostly, to trigger your skin renewal process and the creation of collagen. Our minimally invasive cosmetic skin roller will leave your skin feeling firmer and tighter while diminishing large pores. Applied with your favourite skin care product (moisturizer, serum, wrinkle cream, scar cream and anti-aging cream), you will see tremendous improvement in your skin. Our Roller was designed with high quality titanium needles and a translucent functional design handle with non-slip grip to ensure a pleasant experience.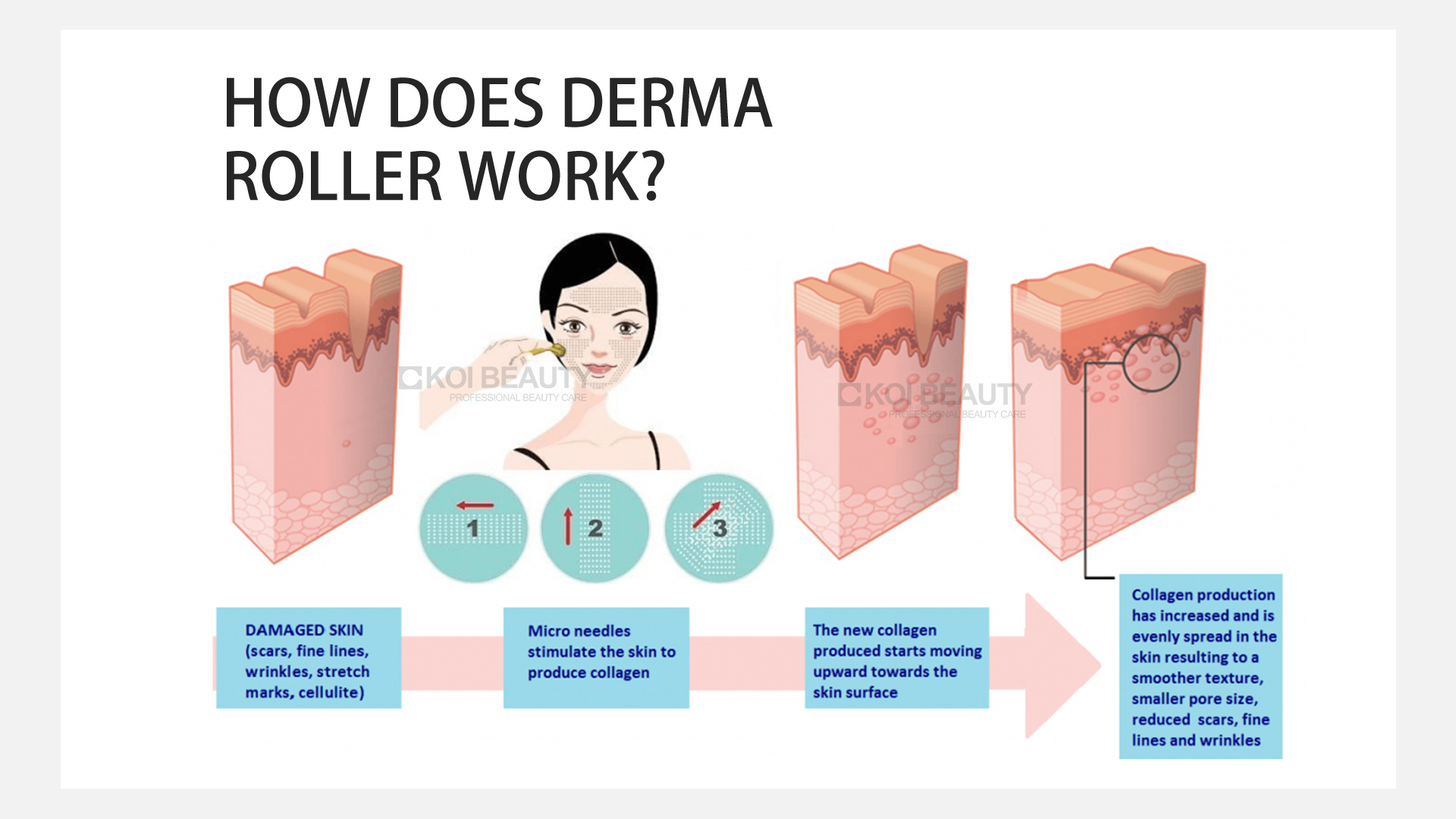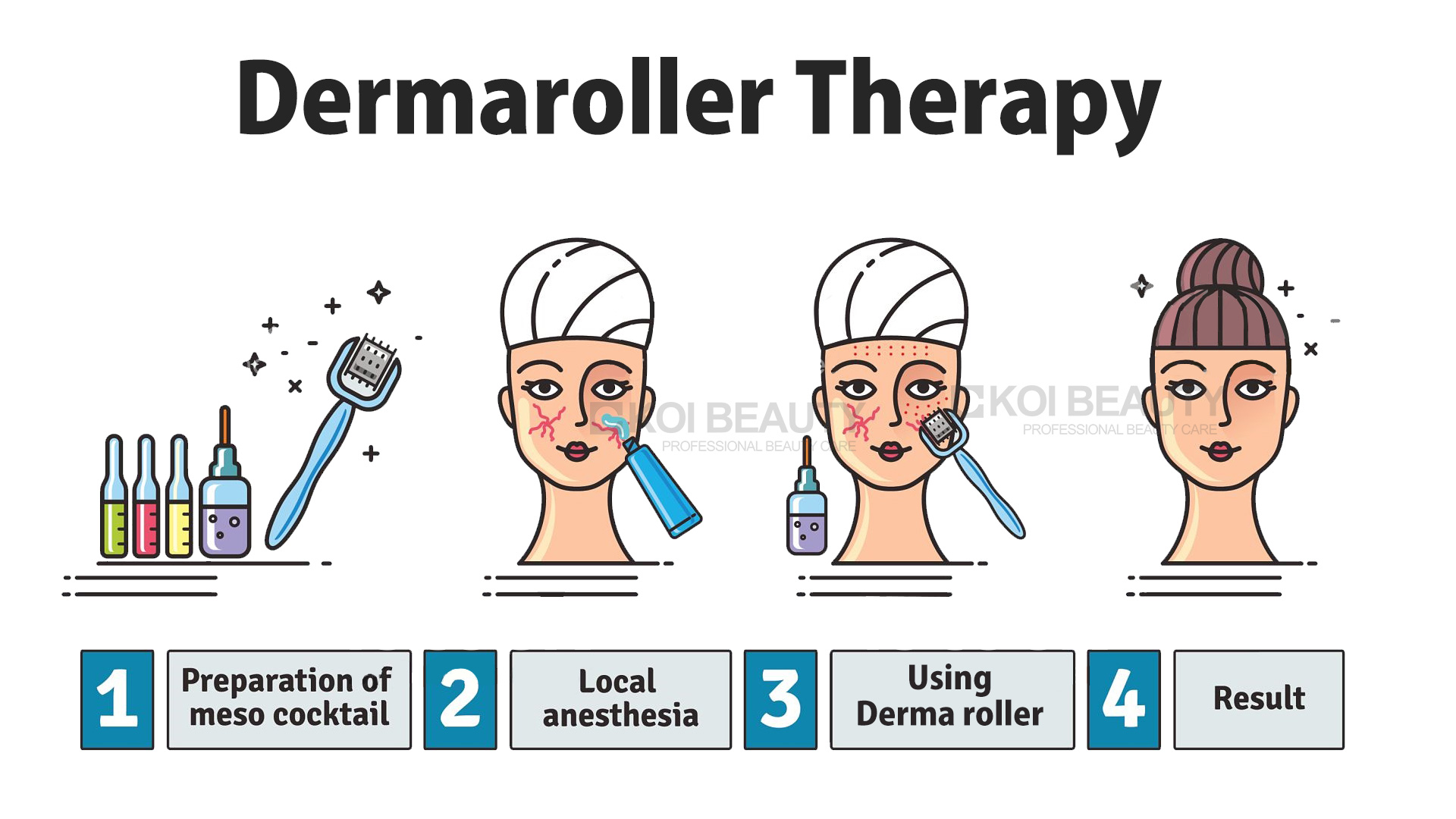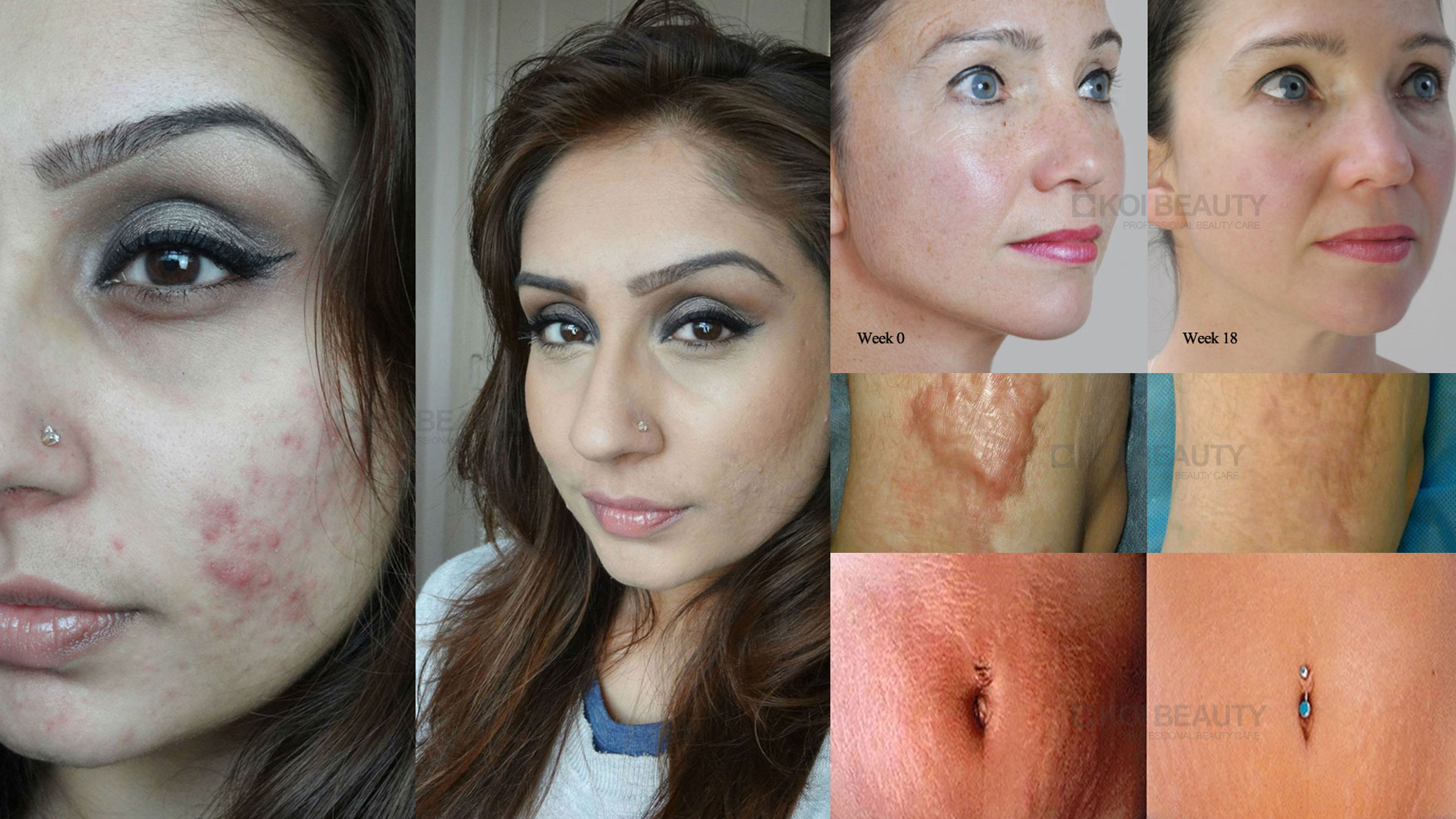 About the product
✅ ROLL AWAY THE YEARS → Reduce imperfections and look your absolute best! While rolling on your skin, tiny micro-channels are created which drastically increase the absorption of skin serums, creams and moisturizers up to 500%! Over time with continuous use your skin will begin to tighten, glow and give off a fresh young look. Be prepared for your friends and family's shock once they notice your youthful fresh glow!

✅ EASY & PAINLESS → Whether you are well experienced or completely new to microneedling, the 0.25mm exfoliating micro roller size is proven by dermatologist to be one of the safest and most effective derma rollers available. Unlike the 0.50mm, 0.75mm, 1.0mm, and 1.5mm our anti aging instrument causes absolutely no pain and no bleeding which is why it recommended by dermatologists as the #1 best beginner tool.

✅ SAVE MONEY & TIME → Defying age has never been easier and more affordable than it is now. Before microdermabrasion tools came along, facial rejuvenation would cost hundreds of dollars for expensive treatments. There is simply no need for you to throw away your hard earned money on expensive procedures when you can treat yourself more efficiently and effortlessly with a Derma Roller from the convenience of your own home at a fraction of the cost!

✅ PROFESSIONAL INCLUDED → We know that you want to amp up your results with this tool and if you are a beginner it can be frustrating to learn the ropes. So this is why we created an entire guide dedicated to the use of the Derma Roller. Not only will you learn how to use the product, but you will also learn tips and tricks from the pros that you won't find elsewhere.

✅ BUY WITH CONFIDENCE → We are 100% assured that you will love our premium micro needling set. Know that you are protected with our no risk 30 day money back guarantee. Your pleasure and satisfaction is our promise to you!

Benefits
Drastically improves your skin texture

Decrease appearance of acne scars, fine lines and wrinkles

Proven to increase absorption of topical serums by up to 1000%

Use on your face, body and even to battle hair loss

Promotes cell regeneration

Helps open your pores

Best beginner tool

Safe & Painless

Affordable SolutionFor men and women
SPECIFICATIONS
| | |
| --- | --- |
| Type | KOI BEAUTY – 192 Micro-needles Derma Roller |
| Certification | Medical CE / ISO13485 / RoHS / FDA / PSE |
| Model | MDR - 192G |
| Needle Type | Single needle |
| Needle Information | 31G, 192 needles, Titanium |
| Needle Depth | 0.50mm / 1.00mm / 1.50mm / 2.00mm |
| Disinfection | 75% Ethyl Alcohol & Gamma Radiation |
| Dimensions | 6.1 x 1.1 x 1.1 inches |
| Weight | 3.4 ounces |
WHAT'S INCLUDED WITH YOUR ROLLER :
✔️ KOI BEAUTY Derma Roller x1
✔️ Storage/Travel Case x1
✔️ Instruction Manual x1
✔️ 30 Day No Risk Money Back Guarantee

NEEDLE SIZE GUIDE
• 0.25mm suitable for cell regeneration; enchancee nutrlent absorption,hair re-growth.
Eye & Facial treatment / Home Use ( Use everyday )
• 0.50mm suitable for hyper-pigmentation or anti-aging,hair re-growth, cell regeneration.
Eye & Facial treatment / Home Use ( Use Onec / Month or every 7 days )
• 1.00/0.75mm suitable for a vatiety of skin problems,good for deeper wrinkles,light scars etc.
Body & Facial treatment / Medical Use ( Use every 4~6 Weeks or Twice / month )
• 1.50/2.00mm recommended for treating other body parts,specially stretch marks & other body areas scars etc.
Body treatment / Physician Use ( Use every 6~8 Weeks )

HOW TO USE YOUR ROLLER:
1. Sanitize Roller with 70% Isopropyl Alcohol (fill a small cup and submerge roller head for 1-2 minutes).
2. Wash Your Face Thoroughly, Remove All Makeup then Pat Dry.
3. Apply Your Serum to Keep Your Skin Moist When Derma Rolling (Vitamin C or Hyaluronic Acid is Highly Recommended).
4. Gently Roll 4-8 Times in Each Direction (Vertical, Horizontal and Diagonally).
5. Rinse your DivineDerma Roller under Warm Water for 15 seconds, then Sanitize with Alcohol.
6. Then Apply Your Serum or Moisturizer to your Face or the Treated Area.
7. After Your Roller is Dry, Place it in the Protective Travel Case for Safe Keeping.

DO NOT :
! Attempt derma rolling if you have a skin condition (including active acne, open wounds, rashes, skin cancer).
! Share your dermaroller.
! Apply too much pressure when derma rolling.
! Be tempted to needle your skin more than the recommended number of times.

100% QUALITY ASSUARANCE
Koi Beauty DermaRoller is manufactured in accordance with ISO/CE standards. The microneedles are sterilized with gamma radiation and sealed in a hermetic pouch and are guaranteed to be 100% contaminant-free upon delivery.The DermaRoller uses mironeedles made from non-allergenic medical grade steel so there is no possibility of an allergic reaction to the device.The process is completely natural , safe and effective. 30 days refund without preconditions. 90 days warranty provided by Koi Beauty.
And must mention the excellent customer care and support
Byceri priceon 1 November 2015
Size: 1.0mm|
Verified Purchase
Working really well. And must mention the excellent customer care and support.
Very good and does the job
ByAnnetteon 23 April 2016
Size: 0.5mm|
Verified Purchase
Wow. This product does exactly what it says on the tin. My tummy tuck scar is looking less noticeable with only 4 weeks of use. I spent so much money on creams which was a waste and only £10 for this derma roller, an absolute bargain.
Very quick delivery
ByClient d'Amazonon 11 December 2016
Size: 0.5mm|
Verified Purchase
I received my dermaroller really quickly and it met my expectations. It seems a good quality product, I tried it yesterday, I have yet to see the results.
But the seller sent it very quickly.
Great product
ByNiamhsnanaon 28 November 2016
Size: 0.5mm|Verified Purchase
I have found the instructions easy to follow and the roller easy to use. I really look forward to it being an intrinsic part of my beauty regime.
Great product
BySosthenes Wudion 23 November 2016
Size: 0.5mm|
Verified Purchase
Great dermaroller , well packed and have been used for couple of weeks now and alredy notice some difference. Definitely recommend it
Five Stars
Bycharlotte wareingon 27 October 2015
Size: 1.0mm|
Verified Purchase
Nice packaging and good quality item
Highly recommended this product
ByAidanon 2 August 2017
Size: 1.5mm|
Verified Purchase
This works. I've only been using it for a few weeks but can already see a visible improvement in my acne scarring. Highly recommended this product.
I'm using the 0. 5mm roller. Skin went ...
ByClinton Babanon 17 May 2017
Size: 1.0mm|
Verified Purchase
I'm using the 0.5mm roller. Skin went red for a wee while but my skin felt soft and tight after a few hours. Will continue using
My skin is getting better and better
ByRoubton 4 July 2016
Size: 1.0mm|
Verified Purchase
My skin is getting better and better. Poor are reduced, skin is more even and acne scars are fading away.
Great
ByShelley xxxon 10 August 2017
Size: 1.0mm|Verified Purchase
Really works, arrived promptly, great company, my skin looks improved already
younger skin
ByLubnaon 6 June 2017
Size: 1.0mm|
Verified Purchase
This product is amazing really does what it say. Highly recommended

Question:
How many needles does it have ?
Answer:
Don't know exact number but the roles has little needles all over the roller surface. YouTube it
By Amazon Customer on 28 July 2016

Question:
what size of needle do you start with? does it matyer?
Answer:
Hi I started with 0.5 and I think it's great
By sarah hope on 22 February 2016

I've got a 1.0mm
Michaela D. answered on 22 Feb. 2016

For face 0.5 that what iv just bought
Lynette Wilkins answered on 22 Feb. 2016

Others are different for face iv just bought a 0.5mm
Lynette Wilkins answered on 22 Feb. 2016

I read many reviews stating that you should but at my initial time, I went with 1.5mm and it worked like a charm. Skin types come into play I guess
Max answered on 22 Feb. 2016

Suggest starting with 0.5mm -this is very good for using on the face an neck, last for around 6 to 8 months when used regularly. You can then order the 1.00mm.
Effects are excellent, you will not be disappointed. Hope this helps
Diane Gardner answered on 22 Feb. 2016

I have sensitive and still young skin so decided to start with 0.5mm, so glad I did that! I will increase it to 0.75 then 1mm in a few months time. I believe it depends on your skin type and condition of your skin too, but I would defo suggest to start with shorter needles and not with 1mm or above for the first time.
Marina V answered on 22 Feb. 2016

Question:
Are the needles made of titanium? simple "yes" or "no", please. thank you.
Answer:
Yes
By Bella on 17 July 2017

Question:
why has my derma roller got black bits around the needles after sterilising?
Answer:
Hi there, I'm sorry but I have no idea. You should contact the seller and ask them as they might know why this is happening. Mine does not have black bits around the needles after sterilising it. Sorry I can't help
By Veronica C. on 11 February 2016

Question:
Would this get rid of my partners self harm marks?
Answer:
It could help, depends in skin and products you use after dermarolling
By Maria E. Schmid on 19 September 2016

Question:
Can this be used on minor acne? Also i am confused is to what comes with the roller?
Answer:
Derma rollers are not good. The new advanced technique is derma pen but even thats only good for white skin. Please dont use them and get a dr dermatologist visit. The newer well known therapy is PRP treatment / vampore facelift. Its expensive but the results are showing up to me after 1-2 week with max results
By Kal on 07 January 2017

I would use it on acne scars and you just get the roller with cleaner depending where you purchase it from
jan answered on 7 Jan. 2017

It comes as the roller with its protective cover only. It works well on post acne marks, but with active spots you may be at risk of increasing the spread of bacteria and making the problem worse.
Amazon Customer answered on 7 Jan. 2017

The answer is no. I would say definitely not. Nothing comes with the Roller. It is as seen with a Container. Some may come in a Plastic box but being dependant upon the supplier. In this article I would write, it is as shown, but only one Container. I have a scar, it is advertised for Acne scars, but I have never had any. I would not use it on a pimp and the like. If you have scaring or surgery scars, then the idea is to promote new skin growth. I have had some Professional Rolling, but if it works, then it is very slow and needs a lot of time in my experience. It is worth a try if you have the money, but do not be disappointed with a poor performance, just try it if you feel it is worth while. I have been attending a Clinic for around four to six months, and rolled at home with little visible improvement. I have multiple Roller from 0.5 to 1.5 mm, so that is why the additional box is probably displayed. It may help fade scaring in time, maybe try a covering agent if severe scars are present. If skin is as ripped away or part loss for the 'Dermos'. It is a beauty treatment to improve skin quality I believe primarily. « Show Less
Jed answered on 8 Jan. 2017

Question:
how many needles in the derma roller ?and is it full titanium
Answer:
Hi the roller is titanium and if I remember there is 300 or more .places remember if you buy it. You can not share with anyone and you need to disinfectant it after use. Many thanks Donna
By Amazon Customer on 11 September 2016

Question:
Hi I'm abit scpetical about derma roller, there is such a huge variety on amazon. Really confused
Answer:
hello this particular one I have found to be very good as far as results go only third time I have used the skin radiance,i am over sixty and over the moon. go for it. mary.
By mary gadd on 14 January 2015

Go for the cheap 1 as they all do the same thing
melanie answered on 14 Jan. 2015

Hi Ive used the roller 4 times and although its slightly uncomfortable and leaves my skin red for about an hour I can see a slight improvement in the softness and fine lines. Im going to keep using it. Its good quality and comes in its own protective tube for safe keeping. I have not used any other roller so cant compare but Im pleased with the quality and it looks like it would be long lasting
L. Richards answered on 14 Jan. 2015