Description

Customer questions & answers

Reviews
Koi Beauty Derma Roller Micro Needle is suitable for fine lines, acne marks, wrinkles, scars, stretch marks, cellulite, eye bags, dark spots, blemishes, sagging skin and other skin problems. Let you have healthy and beautiful skin!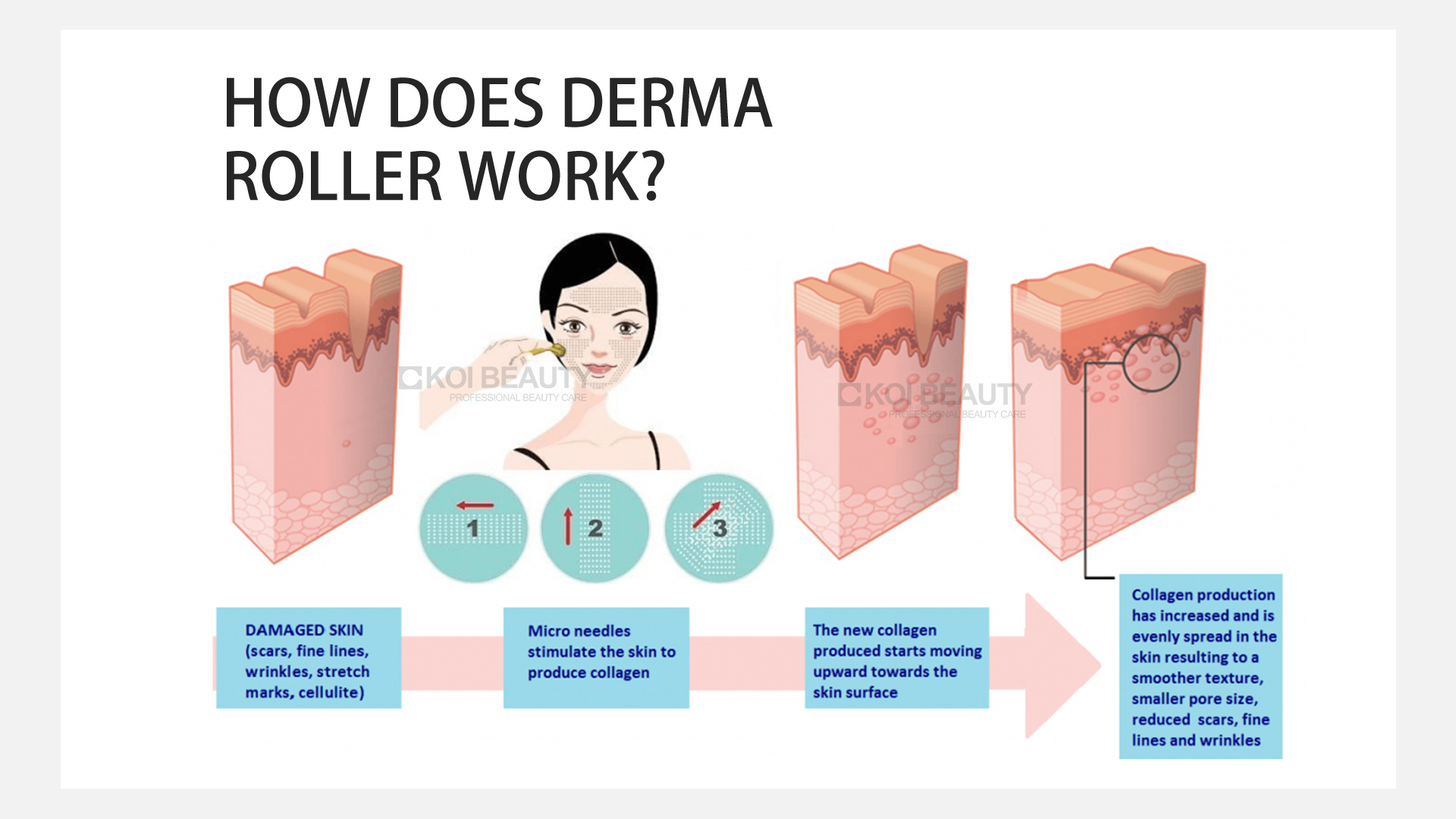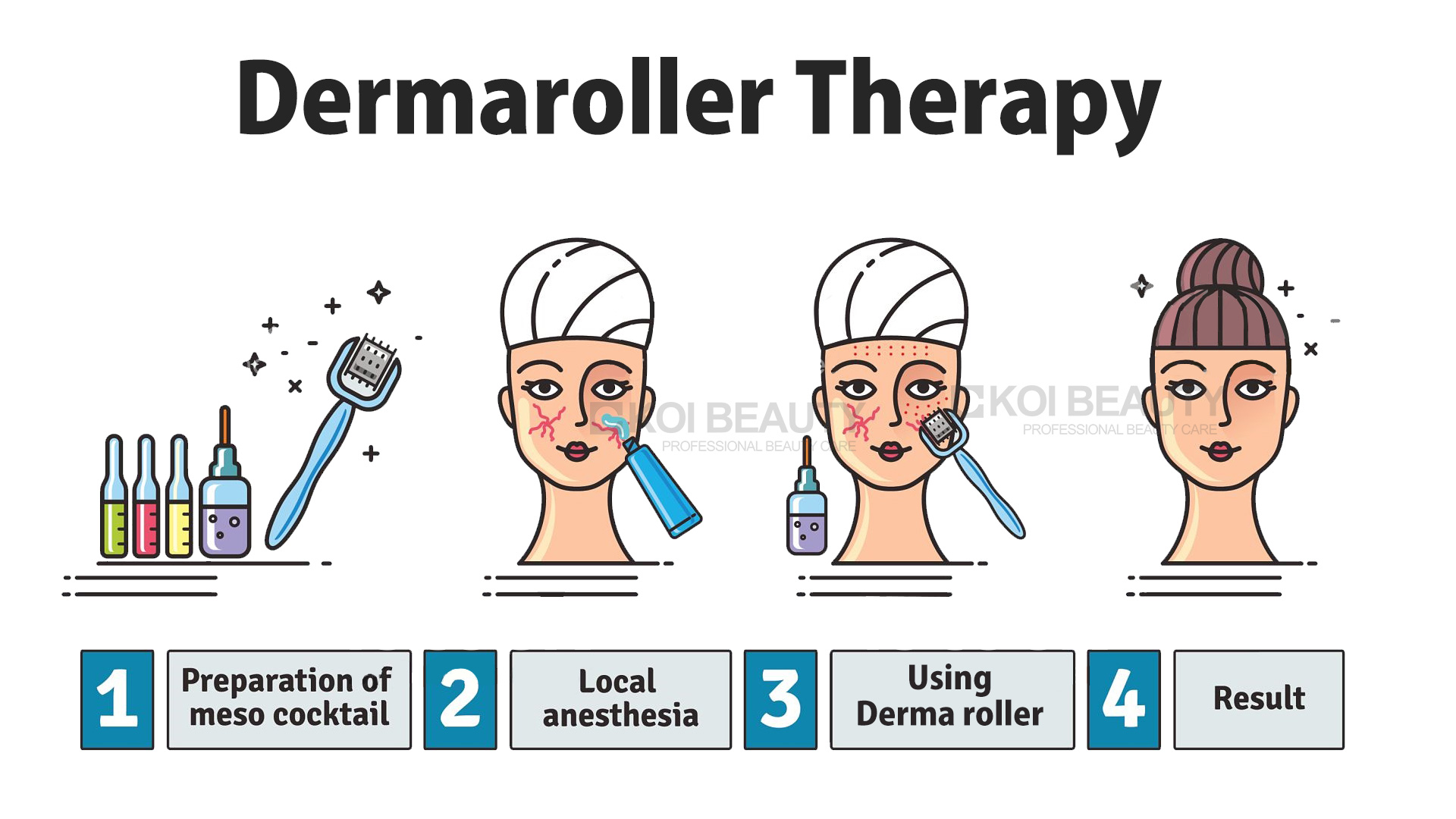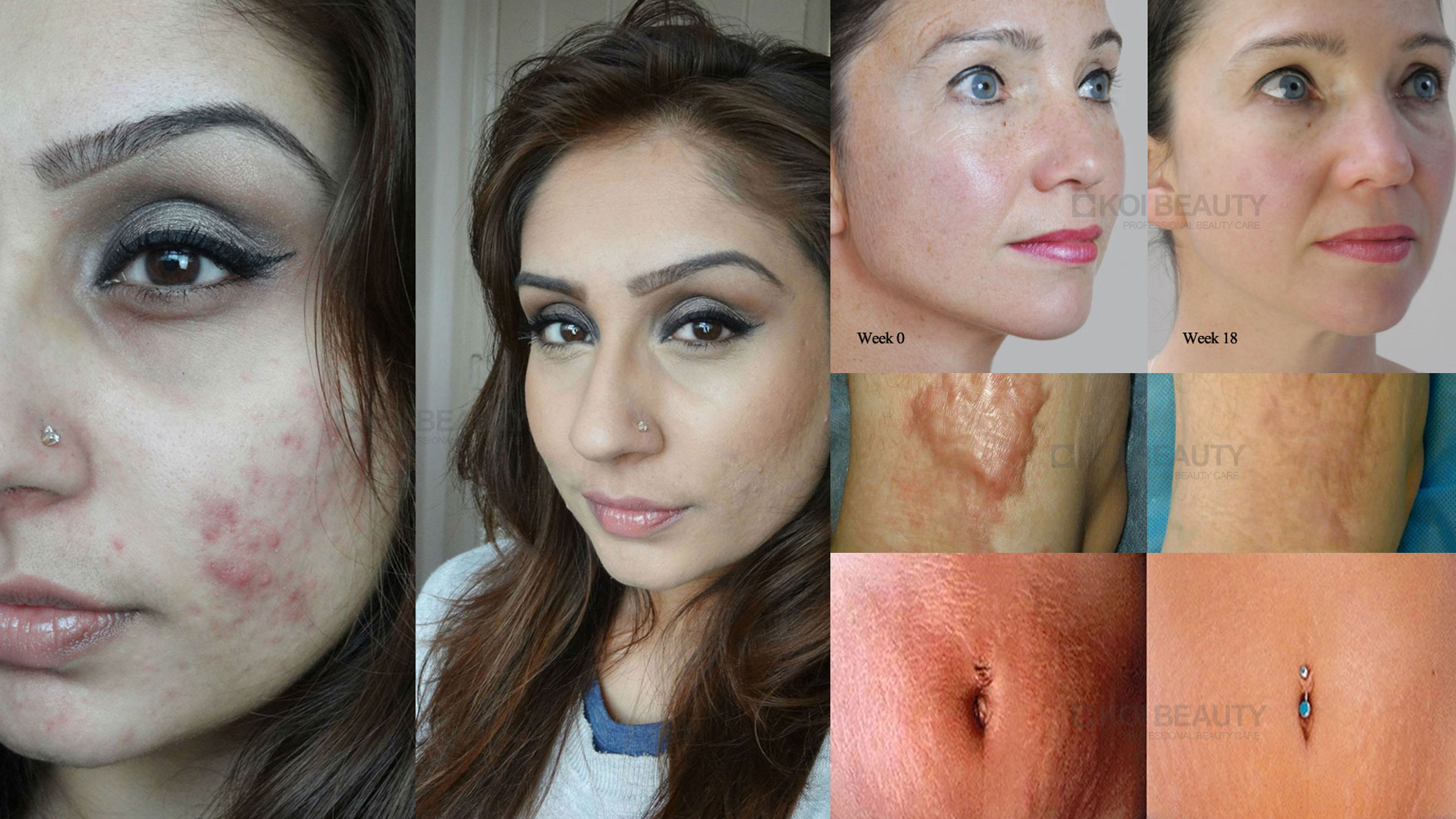 Specifications:
1. Eye 0.5mm, eye bags, dark circles, drooping eyes, fine lines, shallow scars, pigmentation and sun damage
2. Face 1.0mm, more effective than 0.5mm, very painful, you may need an anesthetic cream
3. Body 1.5mm, treatment Severe scars and stretch marks. Must be required for
anesthesia cream 4. 2.0mm derma stamp depth panic is more effective than 1.5mm. This is very painful and must be numbed.
Why choose us?
- We are a real factory with 10 years of production experience, so we have good control over the entire production process
- Derma Roller can be used on all areas of the scalp, face, body, including fragile skin around the eyes, mouth and neck
- Significantly increase the effectiveness and permeability of active ingredients in local preparation
- Various sizes to meet your different needs
- Made of the highest quality stainless steel
- Medical CE certified
- Awesome customer service
- The most affordable price
How to clean?
1
.
Immerse them in a 75% alcohol solution for 5-8 minutes.
2. Place them under UV radiation for approximately 45 minutes.
100% Satisfaction Guarantee:
If you are not 100% satisfied with the purchase for any reason, please do not hesitate to contact us for a refund or replacement. 30-day refund, no prerequisites.Koi Beauty offers a 90-day warranty.
Safety Notice:
If you have obvious wounds, scars, wounds, sunburned skin, active herpes outbreaks, pustular acne lesions, or any other acute infection or skin inflammation, please do not use this dermis roller, have a bad wound Historical healing, collagen disease, blood problems or cancer.
Question:
What are the steps for using a leather roller?
A:
Dear, it is best to search on YouTube like us. You will gradually learn how to use it, but from my wife's experience, it is best to start with a 0.30mm size and you will see good results. Thanks to
Afshar K. on August 16, 2017
Question:
Can I use it to treat (inactive) acne? Are they just old scars?
Reply:
Yes, you can. It can also help reduce and soften acne or surgical scars, reduce the appearance of cellulite and stretch marks, shrink pores, clean heavy sunken skin, and help reverse the effects of sun damage.
Courtesy of Koi Beauty SELLER on January 15, 2017
Great product
Size: 0.25mm
Verified purchase
Arrived at Amazon Prime the next day.
I bought it as a gift for my mother and I will visit it next month. I am not sure how this product works, but she says she wants one.
It has a nice box that is nicely presented. The size is very good, just like the razor handle, it is very comfortable to hold in your hand.

I can't say too much so far, but I like it, and if my mother likes it, I will update the comment.
This job
Size: 2.5mm
Verified purchase
It will be very soon. It comes with a beautiful and sturdy case. This is not very painful. I sprayed with alcohol before and after use to keep it clean.
Big
Size: 0.25mm
Verified purchase
Great skin roller, very satisfied with it, it replaced my old belt, it is as great as my last one. thank you very much!
it is good
Size: 0.25mm
Verified purchase
The product arrived very well. This is my first attempt to use dermaroller. Ok, I am a bit skeptical about these things. I recommend that everyone watch some videos before using them. It's not as bad as I expected, but I have to choose 0.5mm. It has no harm at all. After a while, I felt a little burning on my face, but it should be like that. Anyway, I hope to see some results after using it for at least 1 month, because my skin is a bit problematic. Because of the
excellent
Size: 0.25mm
Verified purchase
I chose this to start dermarolling my face to keep my skin looking firm and as youthful as possible. I chose the smallest size needle as I don't want to walk around with an inflamed face every time I Use this.
There is no pain when I use this, just a gentle tingle that tells me my skin has been stimulated. I use this on my face 3 times per week, rolling10 times back and forth vertically, horizontally and diagonally. I find that the day I use it my skin feels slightly rough and the following day when I don't use it my skin feels really smooth and soft. I use good facial creams and always use coconut oil to moisturise morning and night. I also have started taking time release Vitamin C to help make the new collagen as a result of the dermarolling. I make my own sanitising spray for this using surgical spirit and water in a 100 ml spray bottle and keep it stored in its plastic case.
Very pleased with this item, the price is incredible, it's so easy to use, the handle is comfortable to grip and I personally feel it has definitely helped keep my skin in good condition.
Ideal for my skin
Size: 0.25mm
Verified Purchase
The 0.25mm derma roller arrived really well packed. This is the first time i have tried a derma roller.I was a bit sceptic about these things. I recommend everyone watch some videos before using it. It wasnt soo bad as i expected,I Choose a 0.25mm one. It didnt hurt at all. After using it of course i felt a bit of burning to my face but it suppose to be like that. Anyway, im hoping to see some result after using it for at least 1month i have skin that have problematic all my life... Thanks..
Good stuff
Size: 0.25mm
Verified Purchase
Ar 。 。 。 。 。 。 。 'm sure I'm seeing my scars fade!
Great!
Size: 2.5mm
Verified Purchase
Love it! I need to get a size up now as my skin has got used to this size but I love this product and so does everyone I introduce it to
Five Stars
Size: 2.5mm
Verified Purchase
Gentle and effective with helping product absorption, such as moisturisers and serums..
Five Stars
Size: 0.25mm
Verified Purchase