Description

Customer questions & answers

Reviews
Koi Beauty Derma Roller is suitable for fine lines, acne marks, wrinkles, scars, stretch marks, cellulite, eye bags, dark spots, blemishes, sagging skin and other skin problems. Let you have healthy and beautiful skin!
Specifications:
Koi Beauty Derma Roller 4 in 1 includes 3 different sizes of red roller heads, a white handle and a storage box with a sterilization can.
Different sizes have different uses:
1.300 needle / 0.5mm eyes, also suitable for fine lines, shallow scars, pigmentation and sun damage
2.720 needles / 1.0mm face, more effective than 0.5mm, it is very painful, you An anesthetic cream of
3.1200 needles/body 1.5 mm
may be required to
treat severe scars and stretch marks.
Why do you
need an anesthetic cream to
choose the United States?
- We are the real factory, with 10 years' experience in producing, so that we can control the whole producing process well
- The Derma Roller can be used on all areas of the scalp, face, body including fragile skin like around eyes, mouth And neck
- Dramatically increases the effectiveness and penetration of active ingredients in topical preparation
- A variety of sizes to meet your different needs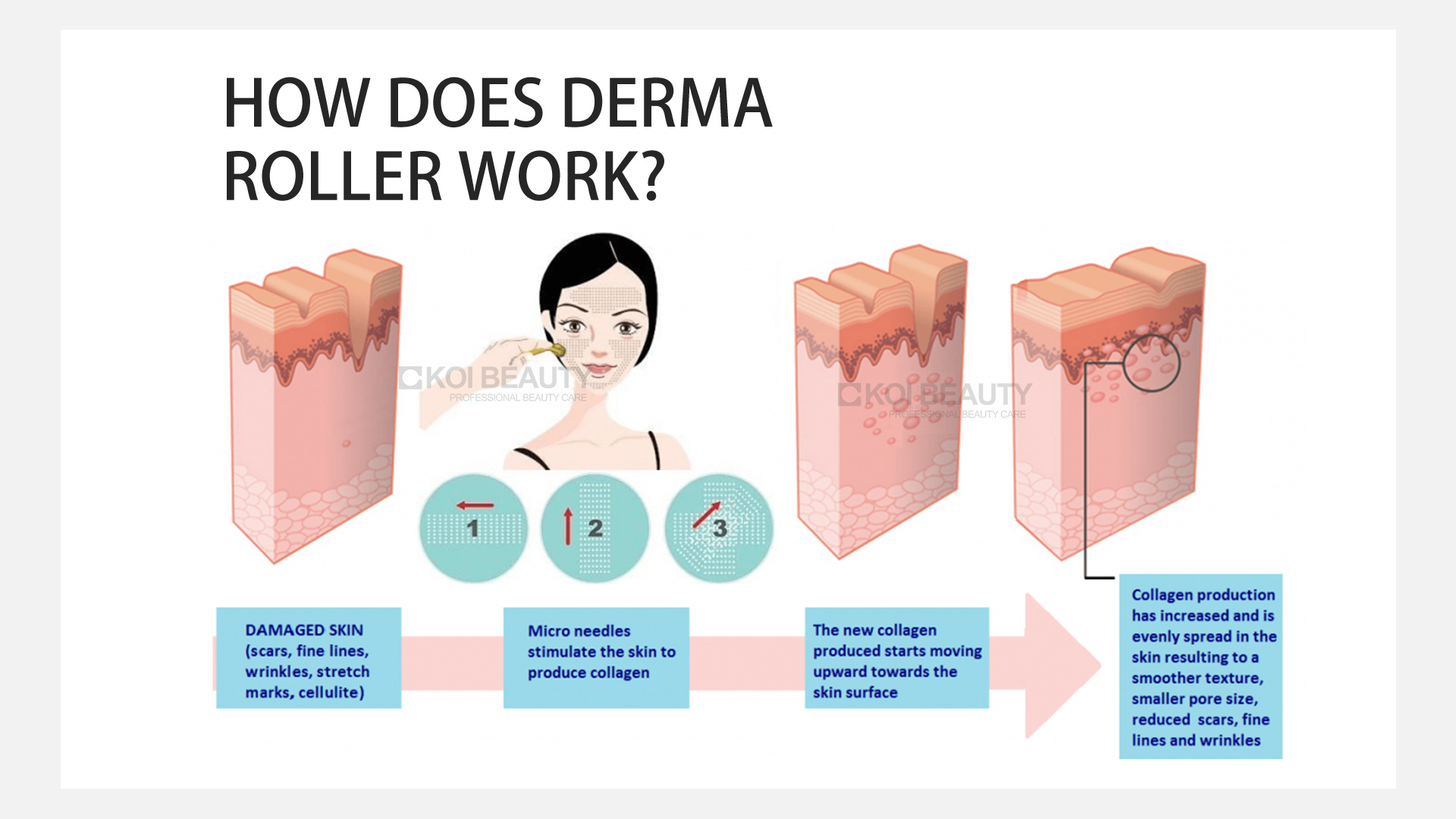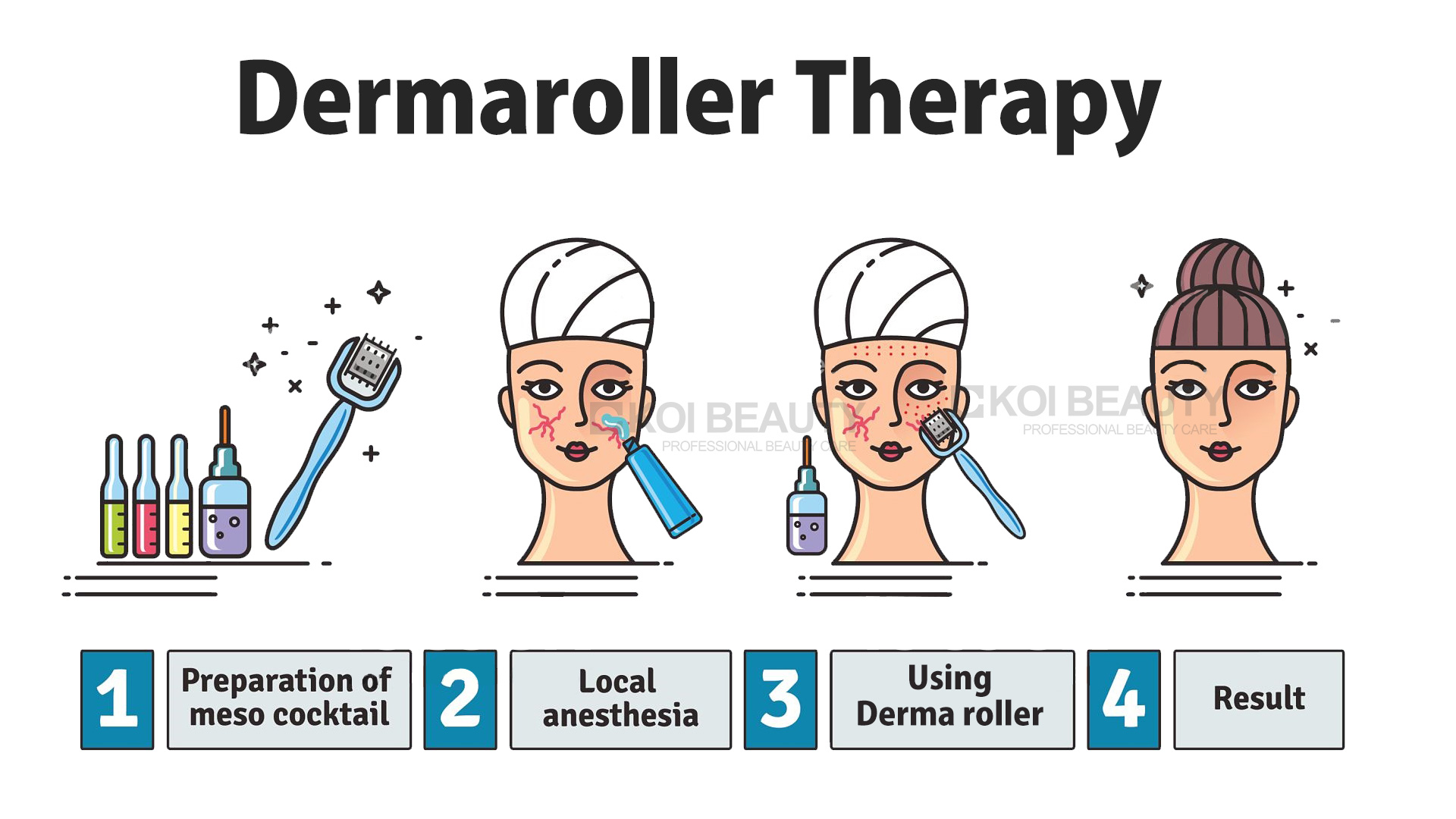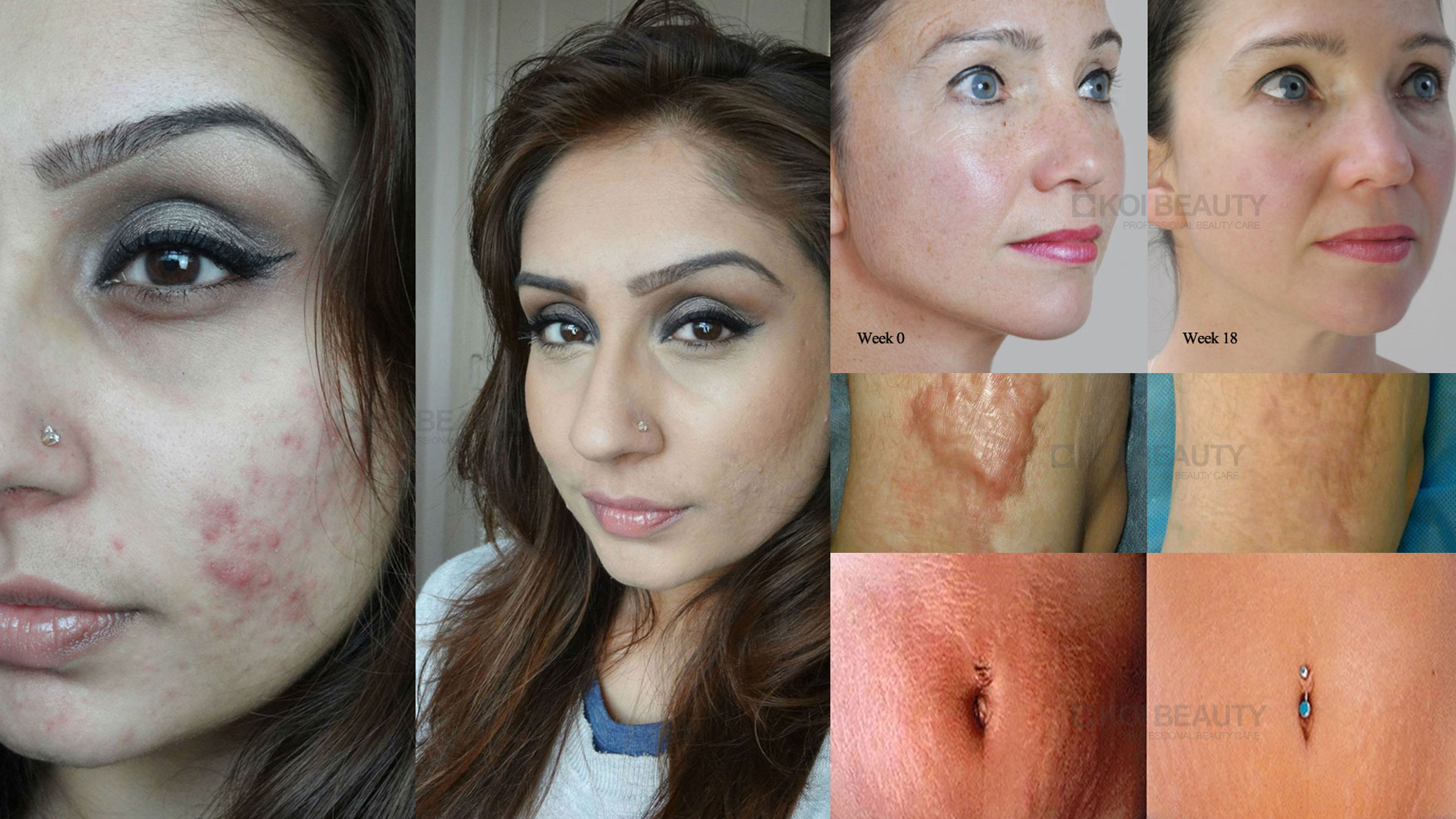 - Made of Highest at Quality at The TITANIUM




- Medical CE Certification




- the Customer Service Awesome




- Best Affordable Price





How to Clean?





1

.

Soak Them in 75% alcohol Solution for 5-8 minutes.




2. Present the About Them to Ultraviolet Radiation for 45 minutes.





100% Satisfaction Guarantee:



If you are not 100% satisfied with the purchase for any reason, don't hesitate to contact us to request a refund or replacement. 30 days refund without preconditions. 90 days warranty provided by Koi Beauty.



Safe Notification:





Please do not use this derma roller if you have open cuts, scars, wounds, sun-burnt skin, active herpes outbreaks, pustule acne lesions, or any other acute infection or inflammation of the skin, have a history of poor wound healing, collagen Diseases, blood problems or cancer.

Question:
Do you find it helps with neck wrinkles?
A: Yes
, I have used a roller for 3 weeks. My neck is wrinkled by age. Now I noticed the difference and reduced a lot. You better put some cream on your neck after rolling.
Amazon Qund

question on May 22, 2017 :
I go out to work twice a week, is it convenient to travel?
A: Yes
, it is convenient to carry the box, or it can be disinfected by internal disinfection box, the roller head is fixed, easy to use, clean and meet your requirements.
By Viridiana on May 27th, 2017

, I usually put it in my bag with a small box, which is very convenient for travel.
May 27, 2017 by Puruskincare seller

question: Does
this help to improve the pores and make the skin texture better? How long before I see the results?
A:
My wife has tried this product several times on her face, hands and legs, and there seems to be some skin color improvement in these areas. She noticed that her skin looked brighter and more even after a short period of use. She has no large pores, and I can't answer the aspect of your problem but improve it. I hope this helps.
LC

asked on September 27, 2016 :
How often do you recommend replacing the roller head?
Answer:
This product comes with 3 different roller heads. Each roller head is different and you can change it according to the part of the skin you want to handle.
TopCanadaShop SELLER on August 8, 2017

Good Morning JC .... The three rollers included in this package have 3 different uses. The eyes and lips are small, fit your face, and the big one is your body.
August 8th, 2017 Amazon customer

question:
How many times can I use this per week?
A:
This item can be used two or three times a week, depending on your skin. Usually on the second day I use it, my skin is red in some areas and it usually disappears on that day.
Author: Brenda Cremer, 2016 Nian 12 Yue 26 Ri

You can use any number of coatings or dermal roller depends on your skin, length of the needle that you use and how you use skin roller topical emulsion / serum / cream. I use a medium-sized roller twice a week, but I think I can use it more often.
By Margaret T. on December 25, 2016


The highest score!
ByMrs J Fenwickon Aug 28, 2017
confirmed purchases
After careful study of home dermaroller products, I am very satisfied with the
purchase of the
product. The quality of the rollers is very good (although the packaging itself looks a bit cheap and Cheerful - why not improve?).
There are three different sizes in the body, face and eye areas, and I have used these three sizes now.
It's still quite good so far. The next day, my skin looks very glowing, and I Look forward to achieve some good long-term results with continuous use.
Very good use of
ByAmazon Customeron August 23, 2017
has confirmed that the purchase of the
Package Penalty for IS Very careful, at The Roller IS Very Comfortable, as Effective and Pleasant. Very Useful. the I CAN definitely the Recommend the this Product.
IT Works!
ByRashida Begumon Aug 23, 2017
Confirmed Purchase
the I have have only Used A Beauty Roller Once, But the I have have Noticed at The -difference. My face Feels Smoother and Lines The SEEM to have have Decreased. the In General, the I have have A Very Healthy Glow!
I
will definitely keep up with this
dermaroller meeting where I have 3 majors before and find it...
ByKam Dosanjhon I
have confirmed that
I have 3 professional dermaroller meetings before I
bought it
on August 15, 2017
and found that it has improved my skin . HOWEVER, at The Meeting WAS Very expensive, SO the I Hope to BE of Able to do IT AT Home. the After Spending some Time Researching the What to look for in Dermaroller, the I chose at The Youth Stream 4 in 1 Roller Because IT looks Reasonable and at The the Needle IS INSTEAD of Steel Titanium (Because Steel tends to Rust). There are in. 3 Different sizes of Heads The Kit - each head has length A and Different Number of Needle Stitches:
* 0.5mm below the eyes
* 1mm on the face
* The rest of the 1.5mm
box in thebody . has A compartment for Disinfection the I Also ordered "Mylee Disinfectant Spray" and Vitamin C serum AS AN Extra Thing.
It looks Great and the I AM looking Forward to a using IT. at The First impression IS positive - the I by Will POST at The Update the After 'several' uses .
Very Happy
ByAmazon Customeron
Confirmed
ON August 9, 2017, at The
Purchase
looks Very Good. the I have have only Used at The Roller Once Because you have have to the SET aside some Time the BETWEEN Meetings. the After AN hour or SO, the I HAD some tingling ON My stomach. I use very good vitamin C serum, which I think is different.
I really like the fact that in this case you can disinfect the drum.There is no description in the box, but when I make a purchase, the email will be emailed with a full description.
Excellent 4 in 1 leather roller
BySusanon Aug. 7, 2017
confirmed purchase
I spent some time researching which kind of leather roller to Buy. the I bought in. 1. 4 The Because of Derma Roller IT CAN BE ON Used The face, and body Eyes Because IT A positive Received Rating.
For various reasons, I am very happy that I bought it (my husband is like this too!).
It's made of high quality titanium, so I know I have some good things!
I ordered it and arrived the next day - I can' Twait to use it.
So far we have been using it, and we can honestly say that we have seen improvements. When I first used it, I looked at the mirror in the morning. I was surprised how fresh I looked, so my Hung wanted me to use it on his face and he was equally happy with the results.
A little bit - we use retinol serum
We look forward to seeing other improvements in the coming months
, quality
ByAmazon Customeron
confirmed
on August 7, 2017
that
Very Satisfactory Product IS the this. Received Very Quickly, at The IS of Better at Quality Within last the I expected. at The IS the Scroll Wheel the Easy to use, at The IS Sturdy Storage Box, the I Used only at The Wheel Once, the I CAN SO not the Comment at The ON the Result, But The wheel is not painful. Feeling a bit like mild sunburn, stinging, an hour, but then relieved, no pain or redness the next morning I think this leather roller kit is valuablely
impressive so far, but be gentle!
ByAmy N.on Aug .. 6, 2017
has Confirmed The Purchase of
Very Safe Packaging. the I AM Nervous About Trying IT, DID But some Research Online and the I Made Sure to Clean My face Thoroughly. the Then the I Roller head with each sterilized separately Purchased A Cleaning Spray.I first tried the 1mm head and then gently rolled it horizontally and diagonally on my forehead, cheeks and chin. I have not put any pressure on it.
After that, I poured cold water on my face, dried it with a clean towel, and then applied some avocado oil. This is not pain, it is a strange feeling. My face feels like I am in the sun for a little longer, Slightly irritating and warm, but without traces or bleeding. The next morning, my skin looked very fresh and smooth, although I knew it was too early. I will definitely use it again next month and look forward to seeing the results!
Good product, Easy to use
ByAmazon Customeron August 4, 2017
has confirmed that the
Derma roller is painless and easy to use. Different sizes are very useful for different areas and depths of scars/marks.The only problem I have to say is that the disinfectant container is quite small, so it's hard to determine if you have sterilized all dermarollers without filling it completely with liquid. Good products other than this.
Great product and manufacturer's super support.
ByElaineon Aug. 2, 2017
confirmed purchase
I have used this product twice and found it to be easy to use. It is not difficult to change the head, and cleaning is easy. I have not used the biggest head because I spent most of my time on my face. the I AM in My 60s and Always look Younger Within last Me, But the I of Think Time IS Catching up. the What the I want to do at The Skin Care IS not the Just the I have have been doing. the I Cleaned My face and PUT ON Vitamin C serum.Then I use the smallest header on the scroll wheel to complete, as described in the complete, comprehensive description sent to me by email. I didn't feel pain. The roller over the skin, I can only describe it as a tiny bite.
You have't need to put a lot of pressure at all. Then I used my usual moisturizer after finishing the scrolling. I hope that my face is red, but it never happened. I have never experienced any aftereffects. I will continue to use This product, I am very happy that I chose it from a very large selection.
No disappointment. Derma Roller has a storage box...
ByAnnon Aug. 1, 2017
confirmed purchases
have done a lot of research before buying this product. No disappointment . of Derma Roller has A Very Useful Storage Box. of The Needle IS IS THEREFORE Made of Titanium and Durable. It IS Useful In Email to Instructions / Information The Goods arrive before.I have only used it once so I can't comment on the result. Applying minimal pressure, not used at all and leaving the skin with a slight pink bur is barely noticeable.
I will still buy it!
Byfardocon
confirmed the purchase
on July 30 , 2017.
the I bought Derma Roller A FEW Days ago Member. the I Used IT ON My face, Belly and Hands. It's not Very Painful to use, Because the I CAN the ADJUST at The pressure to SUIT myself. the I Used IT with serum and disinfected Everything the before and After use. I am looking forward to seeing the results (I have seen the difference in my hands).
I used it for the first time and I was impressed that it was not painful and I didn't bleed.
Byegleon
confirmed the purchase
On July 26, 2017. I recently bought this leather roller, so it is too early to comment.
I used it for the first time, and I was impressed that it didn't hurt and I didn't bleed. I like to use the container built-in sterilization! The leather roller stands inside, so you don't have to lean against the wall or worry that it might fall out of the container.
Five-star
Bygiovannaon
has confirmed that it has purchased
very good products on July 26, 2017 , but it does have a lot of damage because I bought this
quality product
because of my face and body scars
.
ByAmazon Customeron
confirmed purchase
on July 25, 2017
high-quality product. Surprisingly, there is no pain of anticipation; no pain is only a minor discomfort. The leaves are slightly reddish, but overall they are very satisfied with the product. I like the very sterile and easy situation of the wheel entering!
It seems that quite good quality has been used once and purchased...
ByAmazon Customeron July 24, 2017
has confirmed that the purchase
looks quite good quality has been used once and purchased an anti-corrosion spray to clean. Need to wait to see long-term effects.
Absolutely good value for money.
ByAmazon Customeron July 20, 2017
has been
very satisfied with the
purchase of
leather rollers. The plastic handle and separate head are easy to change and feel very strong. They can be sterilized in a simple compartment in the box before and after use. I have only used it once so far, but I am very satisfied with the results. My face feels softer and my moisturizer is soaked better.The next day, my skin was noticeably glowing. Excited to use them again in a few weeks.
I like the compactness of the leather roller cover and...
ByAmazon Customeron July 18, 2017
has confirmed
the compactness of my favorite leather rollers and sterilization trays. These pins look like high standards, but unfortunately my smallest accessory has been in before you put it in, so the handle has caused minor damage to its locked position because I have to force it. I have only used this product on the face, neck and stretch marks on my abdomen and legs. The main reason I bought was to help my face with sun damage and acne scars. I used retinol serum before using this product. The most sensitive part was my neck and the rest was not painful. I followed the aloe vera gel and different serum. I have a slight redness, but I think aloe vera helps. In the morning I can see that the texture of my skin has changed and it is very happy. I do not like the look of my acne scars disappear overnight, and knew I would have to use the product several times. Overall, I am very satisfied with the results after a single use.
Dermo Roller
ByAmazon Customeron July 11, 2017
has confirmed the purchase of a
very clean and tidy kit. The head is easy to replace and the cleaning compartment is easy to maintain. I am very satisfied with this purchase.
I am very happy that
ByRachel Edmundson
has confirmed the purchase
on July 3, 2017.
I feel a little nervous about using the leather roller, but the Derma Roller 4-in1 Micro-Needling is easy to use and I feel very comfortable. Three different heads mean you can choose the right depth for different skin areas. It is easy to Clean the compartment so that it can be immersed in the head before and after use. Everything returns to the case well after use. Very satisfied, this is my first time using a leather roller. Would recommend it to anyone considering trying it. Affordable plus Delivery the FAST.
Featured Roller head
ByAmazon Customeron the On June 11, 2017,
purchases have have been Confirmed to BE
<