Description

Customer questions & answers

Reviews

Special offers & Product promotions
Koi Beauty Derma Roller is suitable for fine lines, acne marks, wrinkles, scars, stretch marks, cellulite, eye bags, dark spots, blemishes, sagging skin and other skin problems. Let you have healthy and beautiful skin!
Specifications:
Koi beauty Derma Roller 3-in-1 includes 3 different sizes of dark blue roller heads and a white handle.
Different sizes have different uses: 1.
180 needle / 0.5mm eyes, also suitable for fine lines, shallow scars, pigmentation and sun damage
2. 600 needle / 1.0mm face, more effective than 0.5mm, very painful, you An anesthetic cream of
3.1200 needles / 1.5 mm body
may be needed to
treat severe scars and stretch marks.
Why do you
need an anesthetic cream to
choose the United States?
- We are the real factory, with 10 years' experience in producing, so that we can control the whole producing process well
- The Derma Roller can be used on all areas of the scalp, face, body including fragile skin like around eyes, mouth And neck
- Dramatically increases the effectiveness and penetration of active ingredients in topical preparation
- A variety of sizes to meet your different needs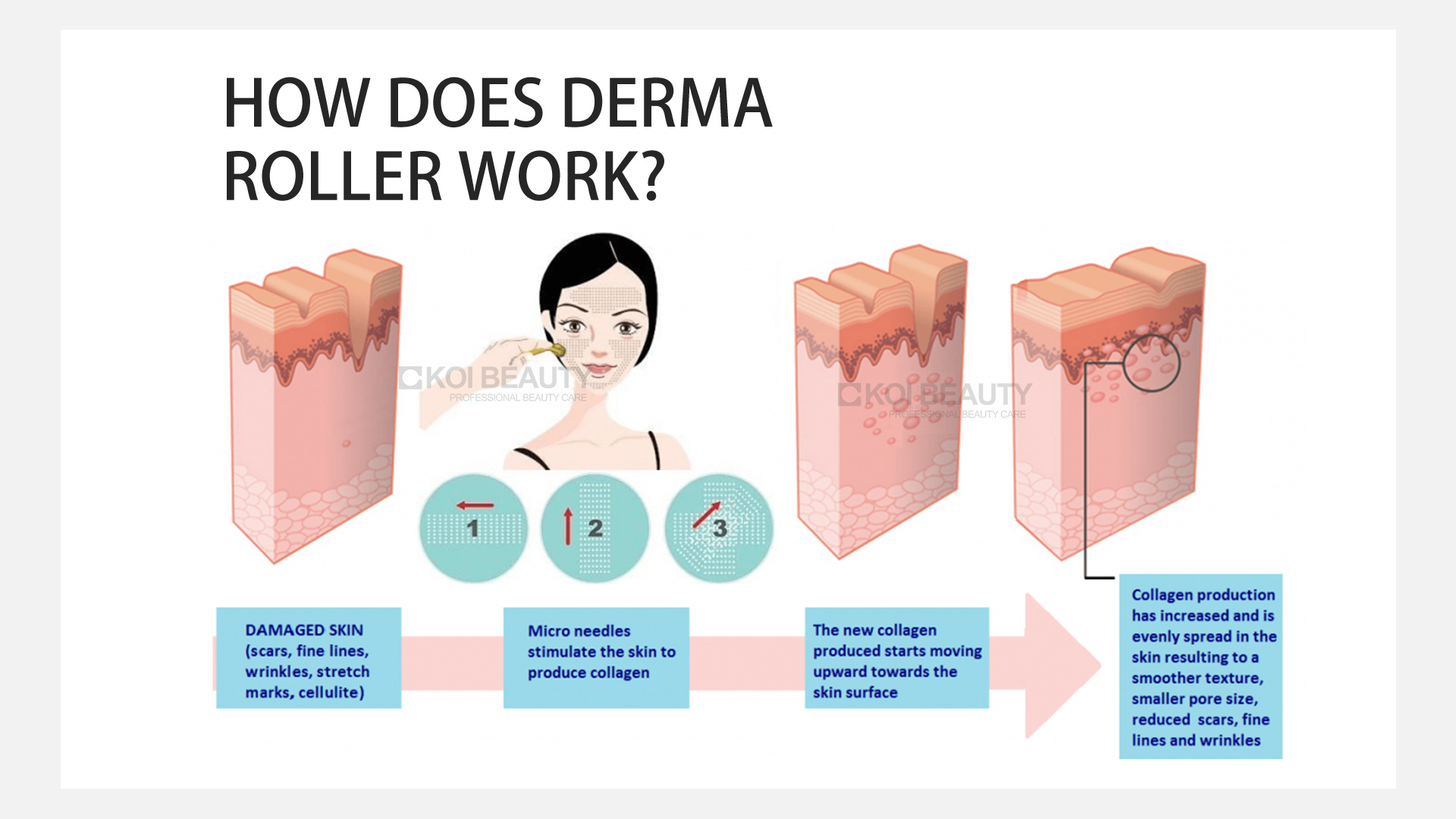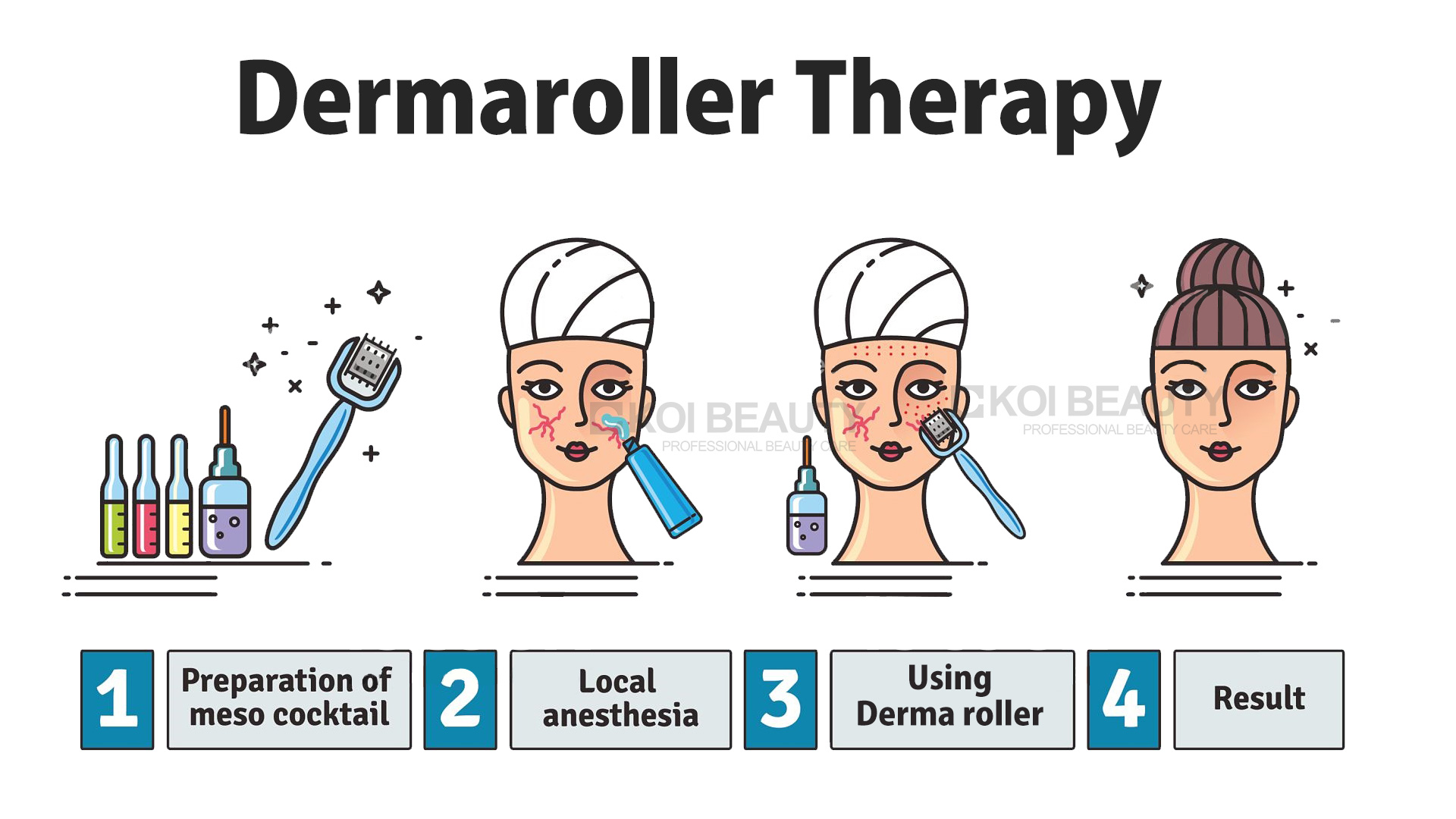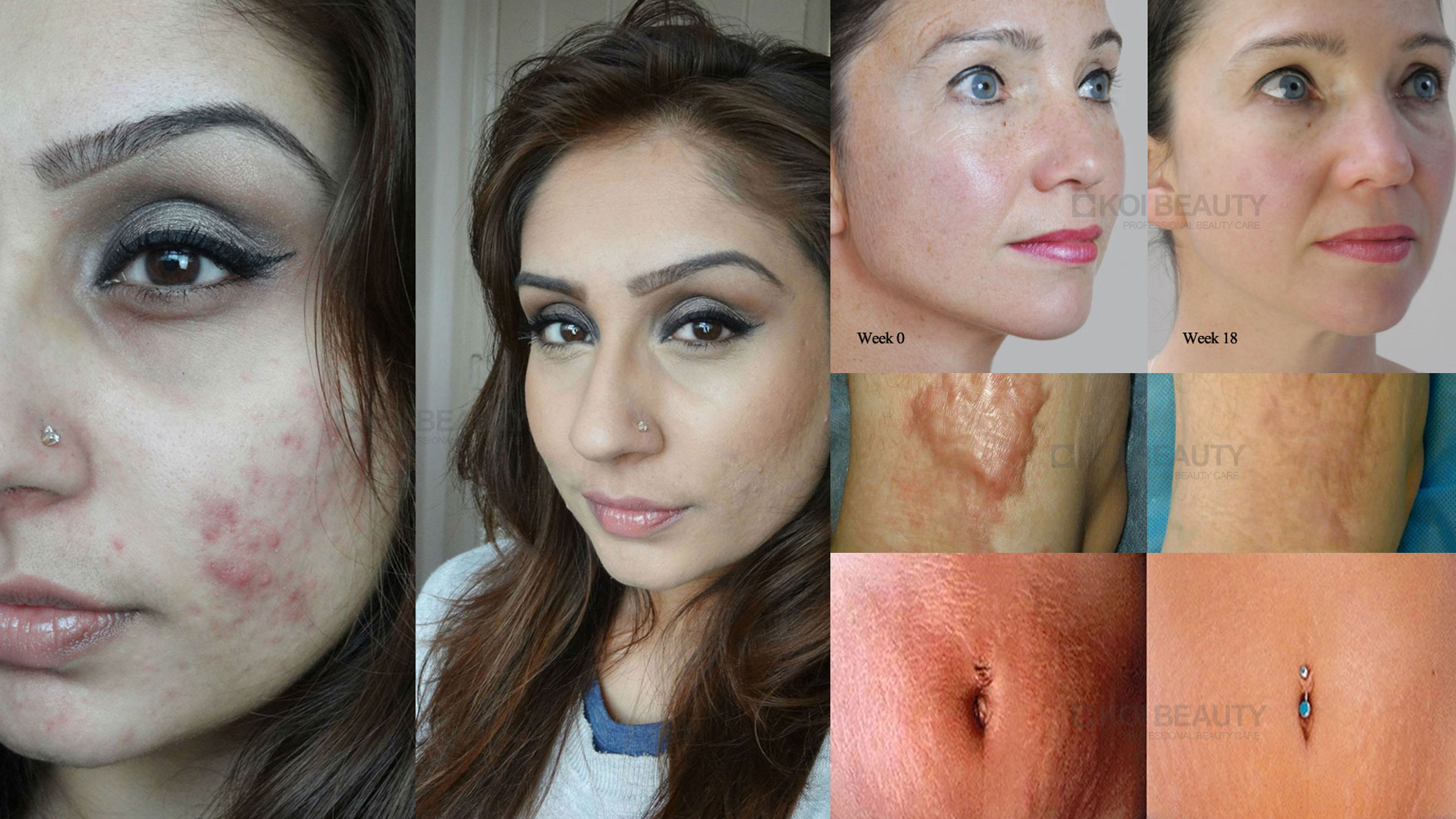 - Made of Highest at Quality at The TITANIUM




- Medical CE Certification




- the Customer Service Awesome




- Best Affordable Price





How to Clean?





1

.

Soak Them in 75% alcohol Solution for 5-8 minutes.




2. Present the About Them to Ultraviolet Radiation for 45 minutes.





100% Satisfaction Guarantee:



If you are not 100% satisfied with the purchase for any reason, don't hesitate to contact us to request a refund or replacement. 30 days refund without preconditions. 90 days warranty provided by Koi Beauty.



Safe Notification:





Please do not use this derma roller if you have open cuts, scars, wounds, sun-burnt skin, active herpes outbreaks, pustule acne lesions, or any other acute infection or inflammation of the skin, have a history of poor wound healing, collagen Diseases, blood problems or cancer.

Question:
Yes, I have questions... What is the
answer to my cheek and forehead size :
嗨Rina,
this kit comes with 3 different roller heads, each with a different number of rollers, preferably used in Different parts. body. The 1.0 pin length is best for your face and 0.5 is suitable for close to the eyes.
Amazon customers released on May 17, 2016

1.0 The
fleurette on May 17, 2016

I used 1.0 mm most of the time. In a thin area like the forehead, I didn't press hard, but in an obese area like a cheek, I would make it deeper.
Author: Suzyvg on May 17, 2016

Question:
Wheel can be used many times?
Answer:
between 4-6 weeks. Don't try to do this because it will damage the outer layers of your skin and counterproductive.
By the kimizzyd 2016

Nian 1 Yue 30 Ri until the needle blunting
G. Bobbie in the January 30, 2016

with a roller that you can use many times, 4-6 weeks not sure I need to know how many times a week? Thanks to
Andrew May 12, 2017

Question:
Why aren't all three heads have the same needle size?
A:
You have different needles for different parts of your body. The shortest part of them is the face, the medium of the body. Scars and marks are the longest.
By nina karis morson on January 10, 2016

each needle has a different size. 1.5 mm is suitable for the body and can be used on the face. 0.5 is better for the eyes and mouth.
By the cheyneese on January 10, 2016

because they are different parts of the body
By Paulina on January 10, 2016

because a leather roller head is used for the area under the eyes, the middle is for the face area, the largest (the widest one) For the body such as: legs, abdomen, arms. All of these parts of the human skin have different depths. The area around the eyes is very shallow, so you only need very little intervention, such as 0.5 mm, 1.0 mm is the perfect acne scar on the face (I won't try 1.5 mm on my face, it can cause damage). 1,5 mm is only suitable for thicker stretch marks or cellulite.
Author: Paulina on January 11, 2016

Question:
It hurts x
Answer:
I do not have sensitive skin, but I would refuse.
Author: ZIG Jennifer, 2016 Nian 2 Yue 7 Ri

If you apply too much pressure, it will hurt.
Author: Rose R. 2016 Nian 2 Yue 7 Ri

Yes, but I can tolerate
February 10, 2016 April W. might be

somewhat dependent on your stress. I feel that the physical part (cheek) is not as bad as the bulky part (forehead).
Author: Bambi Mac 2016 Nian 2 Yue 7 Ri

No. You should not be held down too much. Your forehead feels a bit strange, but it doesn't hurt.
Amazon customer February 7, 2016

Question:
Will these help pores expand?
Answer:
Yes, it can be used. Be careful when using it. I have read some of your tutorials before using it. This has helped me a lot. It took away some very old acne scars/potholes. Thought that I will never get rid of it. The facial skin doesn't work at all, but it does, I only used it a few times x

question:
How do I change my head? Did not give any explanation...
Answer:
嗨 Nagoya, to change the head, you need to press the button on the handle while pulling the head, it is very stiff, it may take several attempts to get it, hope this help
2017 June 3 syrone brady

question:
If you use this at night, can your skin make up the next day?
Answer:
Yes, your makeup is good the next day. After a few minutes, the redness disappeared.
Author: Angela Ugonabo on February 11, 2016

, when I use it, the next day my skin is very good,
by the Mrs T. on February 12, 2016

Yes, it does not matter. I actually like it because my cheeks look rosy and the skin has a nice little tune.
The tea lover on February 16, 2016

is.
Author: Tamara Romanenko, 2016 Nian 2 Yue 11 Ri

problem:
Needle is made of what? What is their shape? Round or flat?
answer:
The box doesn't say what the needles are made of, but they are small and it's hard to see what shape they are - but they look very ordinary. I was
Miss Edward Watts on January 17, 2016.

They are real shapes. Made of medical stainless steel material I feel very good product
Amazon customer January 17, 2016

Question:
Does it help the drooping eyes
Answer:
I use it around the eyes, including but very subtle. It changed my crow's feet and improved the texture of my skin around my eyes. I won't use it on my eyes because this area is very refined.
Author: Cate Reade 2017 Nian 2 Yue 18 Ri

problem:
You roll on the face how long?
Answer:
A total of about 10 minutes.. Select the area of ​​the face I want to improve - frown lines, upper lip and laughter on my lips. I chose to scroll 10 in 4 directions at each location. I did have some blood, but it was wiped clean. The area of ​​the scroll is red but there is no pain... I applied retinal A to the area after completion, and a slight exfoliation occurred after one or two days... Previously no retinal A was used in these areas. So I think something should happen? ... I have only used it once... because I choose to use it once a month. It was a little daunting at first, but I was fascinated after the first few volumes! ...I hope that I can do this every night...but don't want to hurt my skin... Hope this helps.. Happy leather scroll! Question
by Ms. T on May 2, 2017

:
What other products do I need to purchase? Is it harmful?
answer:
You do not need to purchase any other products.
You can use a variety of creams/serums, etc. Before or after the meeting.
If used with care, it will not be harmed. Even if you feel uncomfortable, there is a way to solve it.
By NTG on June 15, 2017

No, no other products are required; yes, this is not pleasant.
Author: M. CURRAN asked on June 15, 201

:
Why aren't all three heads have the same needle size?
A:
You have different needles for different parts of your body. The shortest part of them is the face, the medium of the body. Scars and marks are the longest.
Released by Koi Beauty SELLER on August 29, 2017


No injuries, after two uses, the fine lines on my cheeks also decreased...
ByAmazon Customeron July 23, 2017
Dimensions: 2.0 mm
|
Verify purchases
don't hurt and two use fine lines behind my cheeks After that, I used my dermoroller to put the whole face in numb and put its socks up 1000 times more than without using the wheel
. You have to roll it.
ByLainyon August 17, 2017
Color: Derma Roller
|
Verified purchase
thinking id look at all The hype is what I first used I went to the 1ml head on my face, I didn't have any numb cream so just took a plunge it too painful to be sensitive to the mouth area though, my skin is quite red as expected I put on some vitamin E cream, it really reduced after an hour or so, I know it will take several times before I see any real results, can't wait. Will be updated then
a productive sport
ByCJ K.on August 13, 2017
Color: Derma Roller
|
Verified Purchase
If anyone wants to improve their complexion, try one of them. I am a terrible cynic, but before I filmed and during the photo, did you know? I look better. I am surprised, but it works. Use it regularly and you will see the results. My friends said that I look like the "good s_x" light but no, this is the leather roller haha.
Five Star
ByPam sayleon April 12, 2017
Color: Derma Roller
|
Verified Purchase
Very satisfied with this dermaroller and recommend
Great
ByAmazon Customeron April 6, 2017 Color: Derma Roller
|
Verified Purchase
If you want to start rolling without spending too much money, good setup. Good to buy, but you can tell it at a cheaper price than other available rollers. I won't buy it again, because I will buy a higher quality product next time but will recommend it to anyone to start rolling
work.
BySmaon February 21, 2017 Color: Derma Roller
|
Verify that the purchase
does make a difference. It hurts a bit, but beauty is pain, it tightens my big pores.
Brilliant
ByMimiJolieon January 25, 2017 Color: Derma Roller
|
Verified purchase of
very good needles with stimulating results. Once I feel that I need a new device, I will buy it again.
Good roller, the result is very satisfactory
ByHelenon January 2, 2017 Color: Derma Roller
|
Verified purchase
This set is very good value for money, I have seen some stretch marks since I was in my teens/twenties The real difference.
They have changed from true deep purple to deeper and more silvery colors, and I hope I can get rid of them completely. I also used them to see the very good effect on the crow's feet around my eyes; the wrinkles are not obvious.
I use 1.5mm needles because I found them to be the most effective, but it's important to say that it can be a very painful process, so depending on your pain tolerance, it's definitely worth investigating the creams that can be used for anesthesia (I don't have ' I tried this because I'm
in the next few hours, my face always looks very red (a bit like sunburn), and my skin is a little puffy around the next day. I am before and after each use . The drum is sterilized and the face is thoroughly cleaned beforehand to remove all the makeup. Then, when I use the roller, I use a soothing natural moisturizing oil (I use organic argan oil).
There are many guidelines for using the leather roller online . I have checked it before I started, I definitely recommend that you do the same thing. In order to get the best results and let the skin heal between treatments, you must not overuse the roller and experience, I definitely recommend sticking to this and medical . professionals recommended content
love it!
ByAmazon Customeron 2016 Nian 12 Yue 20 Ri
color: Derma Roller
|
verified buy
me now like derma Move, this package can definitely solve the problem. 2 weeks later I would definitely see a difference. Tip: your vitamin C and lemon essential oils combined to obtain additional charm (it will sting a bit, but will kick acne Ass)!
Great product
ByAmazon Customeron December 16, 2016
Color: Derma Roller
|
Verify that buying
my skin feels so soft due to its use.
I
am very suspicious of this type of product
,...
ByAmazon Customeron November 15, 2016
Color: Derma Roller
|
Verified Purchase
I highly doubt this type of product, there are risks such as needles and pain or extra scars if I use It's wrong...but it works because I continue to use it. After some uses my hair starts to grow again on my scalp and my stretch marks are not so fierce (I use small on the hairline, use big on the belly - once a week, but I get The result I want to drop from it to about once a month).
No more puffy eyes!
ByIffyon June 22, 2016
confirmed purchases
Whenever I wake up in the morning, this is the first thing I use on my skin, for those who are awake when waking up, or because of excessive activity and daily activities. This is very good for people who are swollen. This is my holy grail, because I have never got enough sleep, I always go to look like a Michelin man, but it can calm my face and blood levels. I will definitely recommend this product to my friends, the price is cheap
Magic
ByZatalon June 9, 2016
Color: Derma Roller
|
Pinkoi
has verified that the purchase
is very good, the effect is very good, value for money, like it, I am now weekly Used once, now the third week works well, almost like magic, facial and body
maturity
for collagen and vitamin C products
ByAmazon Customeron June 2, 2016
Color: Derma Roller
|
Verify purchase
I tend to use under the eyes. Pain, but you have to be patient and allow healing. Face cream and water. Get rid of wrinkles and frowns. Restoring hair, pain, but slow progress. Persistence and perseverance will restore your mature look to your intent. On any male flank, (male) chicken wings, (female) are used around.
From Mark
Five Stars
ByFortuneon May 16, 2016
Color: Derma Roller
|
Verify Buying
Excellent!!!!!
Good Things
ByAna R.on March 2, 2016
Color: Derma Roller
|
Verified Purchase
This is very good, I can only see small differences after two uses. I use vitamin C + retinol serum.
Great quality. Low price
Bycheyneeseon January 9, 2016
Color: Derma Roller
|
Verify that the purchase
quality is good. Low price. Each head has a cover that is important for protecting the needle. When using a leather roller, you can use a detachable head to pull them. Very satisfied with this product
I like this. Quite a unique feeling, but first...
ByTammy Rutlandon December 20, 2015 Color: Derma Roller
|
Verified Purchase
I like this. Quite a unique feeling, but the first time I used my face to look fresher and couldn't wait to see later results. I am using Vitamin C Brightening Essence. Use a small head around the face of the middle of the eye. It does feel like it will provide results, so the fingers cross.

HWA02QWWMVUVM