Description

Customer questions & answers

Reviews

MDP | MICRO-NEEDLING DERMA PEN
For The Look of the Future.
Feel natural, be natural.
For that Feminine Look You Always Wanted.
Recover. Rejuvenate. Revive.
Beautiful skin starts here.
KOIBEAUTY MDP - The latest and most revolutionary cordless medical needling device available today!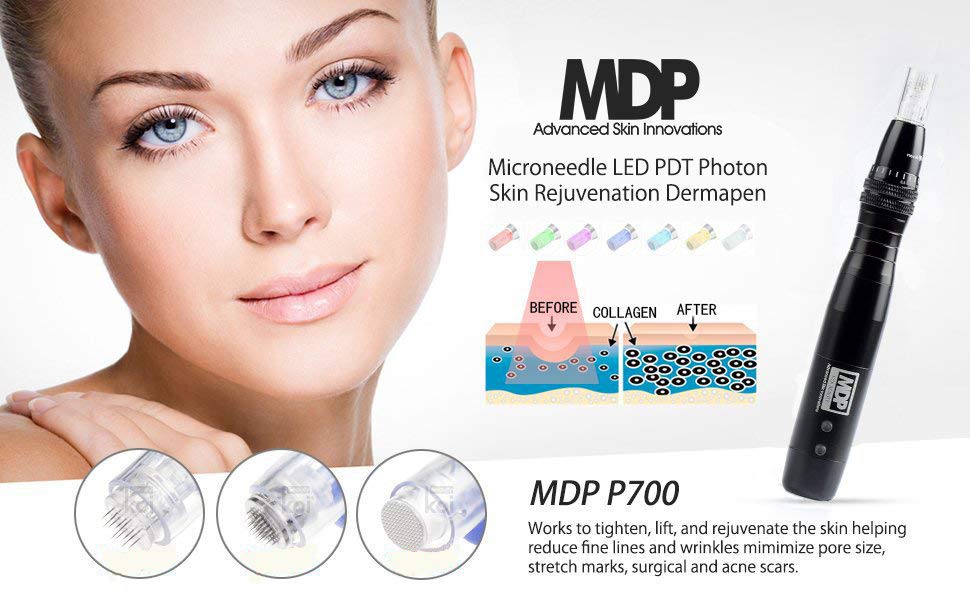 Product Specification:

Needle Depth adjustable :0.25 - 2.0mm
Needle slot: Thread Slot
Certification : Medical CE / ISO13485
Speed : 5 Levels Controlled speed from 7,500 - 10,000 r/m
LED Color : Red, Blue, Green, Yellow, Purple, Clean Blue, White
Handle Material : Alloy
Wireless : Yes
Input : 100 - 240V AC / 50,60Hz, 0.2A
Output : 5V DC, 1A

Package:

Needle Size :70 x 44 x 102mm
Weight : 610g
MDP Host x1
Adapter x1
3M Alcohol Pad x10
Finger stall x30
Needles cartridges x5 (NCT12)
User manuals x1

How to use?
1. Wash your hand and the area to be treated thoroughly
2. Wipe the skin and your hands with anti-bacterial gel ( you can skip this step if you are using needle lengths of less than 0.5mm)
3. If you are using numbing cream, following the manufacture's instructions for use. Alaways remove the cream completely before rolling ( you can use cotton pads soaked with alcohol to do this)
4. Rinse the derma roller under hot running water for a few seconds
5. Apply skin care product, if using
6. Whilst pulling the skin taut with the free hands, roll forwards and backwards over the area to be treated. Roller 8-10 times in each direction vertically,horizontally,diagonall (forwards and back equal two rolls). Apply sufficient pressure for the needles to penetrate the skin to their full length. Lift the derma roller slight after each roll-this will ensure that the needles creat new micro-channels in the skin after rather than going over the same ones repteatedly.
7. Wash treated area and dry with the clean towel or air-dry

* results may vary from person to person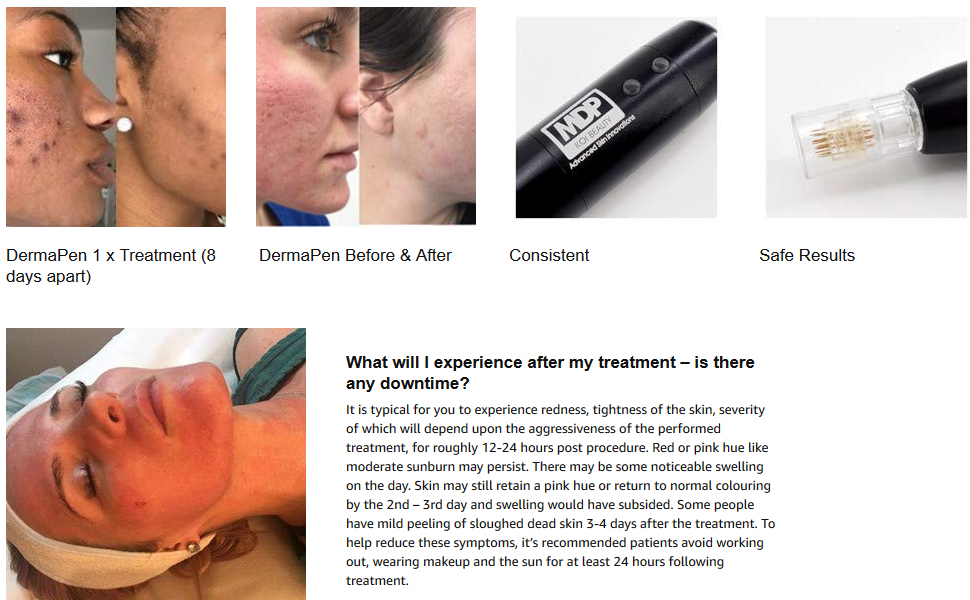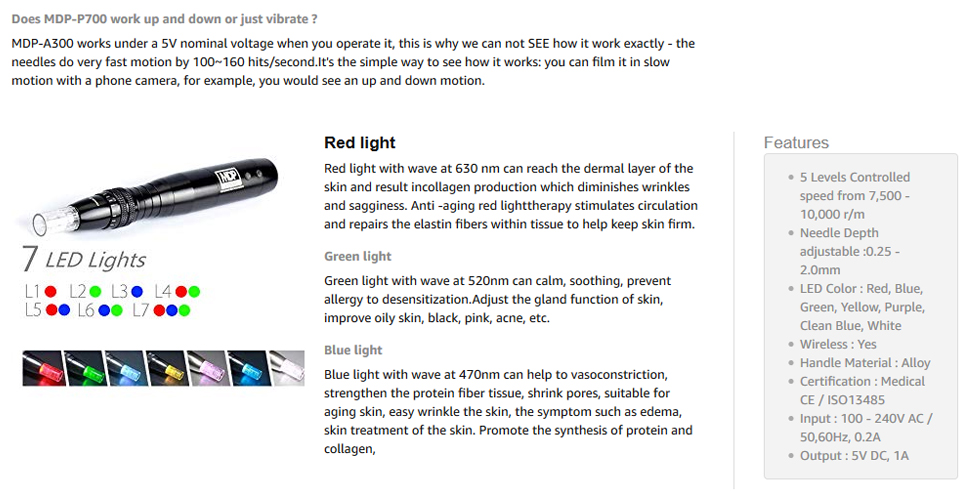 Common Questions relating to our Treatments
What is LED derma pen?

The 7 colors LED Photon Electric Derma Pen is a motorized surgical instrument that uses a disposable needle tip cartridge,automatic and electric.You needn't to buy a new one every time.Just replace the needle.Needle length is adjustable from 0.25mm to 2.0mm according to the areas and purposes of the therapy. It is more convenient to treat narrow areas such as nose, around eye or mouth.Besides,the vibration speed can be controlled in 3 levels.

What are the Benefits of Micro needling /Collagen Induction Therapy?
The benefits of micro-needling are a reduction in the appearance of fine lines and wrinkles, younger-looking skin with fewer signs of aging, also has a positive effect on hyper-pigmentation as well as on hypo-pigmentation, acne scars, traumatic scars and stretch marks and generally creates a fresher appearance or glow to the skin.
What areas of the body can I treat?
Micro needling can be used on all parts of the body; Face, neck, décolleté, arms, hands, legs, abdomen and back.
What does it feel like?
The feeling is similar to light sandpaper being moved across the skin. While some areas are more sensitive than others, the speed of the reciprocating needle tip reduces discomfort while the applied hydrating gel also makes the treatment more tolerable.
How long does the procedure take?
The procedure takes 15-30-45 minutes depending on the size of the area treated.
What is the downtime?
Immediately after the treatment you will notice a bright redness to the skin.
The total healing time depends on the depth of needles used and the number of overlapping passes your skincare professional performs. On average, patients are red up to 2 to 4 days, or more. Some patients heal completely in as little as 24 hours.
When will I see the results?
Clients notice an immediate "glow" to their skin. Visible changes to the skin develop over the course of several days and weeks. Results continue to improve up to 6 months after the treatment as collagen production continues.
How many treatments will I need?
Some patients only require a single treatment, once per year to achieve optimal results. However, it is recommended for most patients to receive a series of 2-3treatments spaced about 6-8 weeks apart. For patients with deep wrinkles, advanced photo-aging, stretch marks or acne scars it is recommended to receive 6-8sessions at 6 week intervals.
Collagen Induction Therapy (CIT) is designed to reverse years of skin wrinkling, sun damage, hyperpigmentation and acne scarring.
The DermaStamp is a micro needling pen. The micro needles within the pen create hundreds are tiny micro channels through the epidermis into the deeper dermis. Thus triggering the natural process of collagen and elastin repair without scarring, resulting in improved skin thickness, strength and smoothness making the skin healthier and more youthful.
During a micro needling used a Facial Aesthetics allows penetration of the needles. The depth and speed of the device is adjusted to give maximum results and ability to remodel the skin in many areas including face, neck, décolletage, arms, hands and abdomen and has excellent results with stretch marks, scars and acne scars.
The procedure takes approximately 1 hour depending on the area being treated (this includes time to numb the skin prior to the procedure).
During the Micro Needle treatment Mesotheraphy serums can be delivered directly into the deeper layers of the skin to improve results, this can be incorporated in your treatment plan.
Micro Needle treatment stimulates the natural healing process and is therefore a holistic approach to skin treatment.
After treatment with Micro needling your skin will begin natural dermal and epidermal wound healing, resulting in enhanced stimulation of new healthy skin.
Phase 1 (days 1-3)
Inflammation: Activated by piercing the dermal tissue, platelets release cytokines and growth factors which act as signals for the body's immune system. White blood cells are sent in to disinfect the wounds, clear the debris, increase the blood supply and begin the creation of fresh, new skin.
Phase 2 (days 3-5)
Proliferation: In this phase, the fibroblasts, keratinocytes and epidermal cells continue to divide to populate the areas of damage and secrete growth factors and extracellular matrix, such as elastin and collagen will be laid down and deposited with new tissue formation.
Phase 3 (days 6-30)
Remodeling: during this phase, collagen and elastin producing fibroblasts proliferate in the puncture wounds formed by the micro needles and migrate. The collagen in the newly formed tissue is now replaced with even stronger collagen and the dermis contracts to create a youthful firm, but supple texture to the skin.
There can still be improvements to the skin for up to 6 months after treatment as further collagen is produced.
Some patients may only require a single treatment, repeated one per year to achieve optimal results. However, most patients would be recommended to have a series of 3-4 treatments spaced every 6 weeks. For other patients with deep wrinkles, advanced photo-ageing, stretch marks or scarring it would be recommended to have 6-8 sessions to ensure optimal results.
I like this auto derma stamp much better than derma roller
ByJoanne Choon February 18, 2016
Verified Purchase
I like this auto derma stamp much better than derma roller, i can have more control, even result and no scratch mark.
I recommend this product anyone who is interested in derma rolling. Shipping was much faster than I thought and they gave me small present as well.