Description

Customer questions & answers

Reviews

MDP | MICRO-NEEDLING DERMA PEN
For The Look of the Future.
Feel natural, be natural.
For that Feminine Look You Always Wanted.
Recover. Rejuvenate. Revive.
Beautiful skin starts here.
KOIBEAUTY MDP - The latest and most revolutionary cordless medical needling device available today!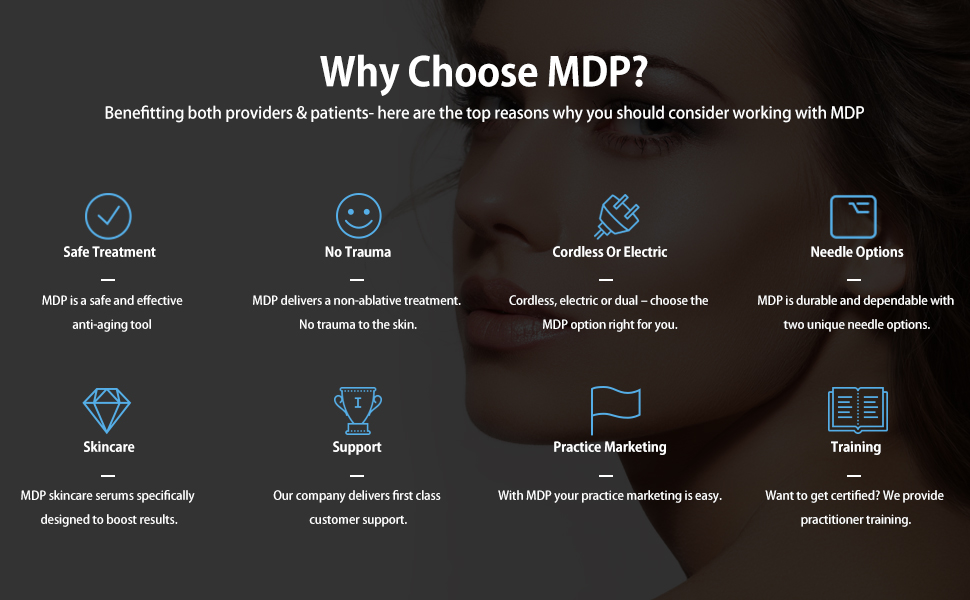 Automated micro-needling is an innovation in aesthetics for the treatment of the appearance of fine lines, acne scars and the skin's texture, tone and colour. Benefits include a reduction in the appearance of fine lines, wrinkles, improved skin tone and texture and softer, younger-looking skin with fewer signs of ageing. Micro needling can help improve the appearance of hyper-pigmentation as well as uneven skin tone, acne scars, traumatic scars and stretch marks.
Micro-needling is also effective for alopecia and general hair regeneration. The process works in much the same way; as the wound healing response takes place, it stimulates blood circulation and increases nutrients reaching the hair follicles, this combined with the stimulation of proteins in the area can result in new hair growth.
* results may vary from person to person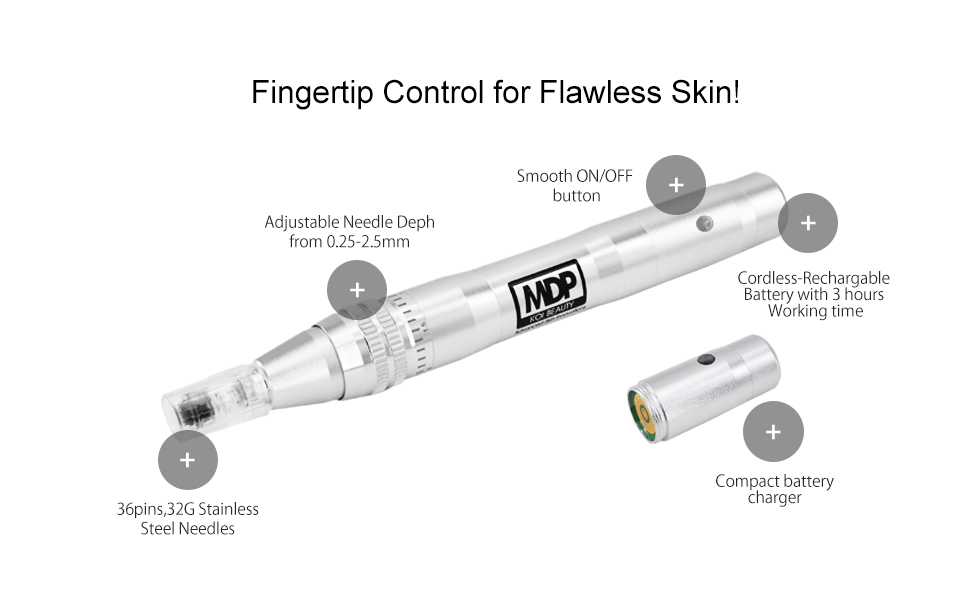 Specification:
MDP Host x1
Replaceable Battery x2
Adapter x1
3M Alcohle pad x10
Finger Stall x30
Needle Cartridage x5 (NCB 12)
User Manuals x1
Travel Case x1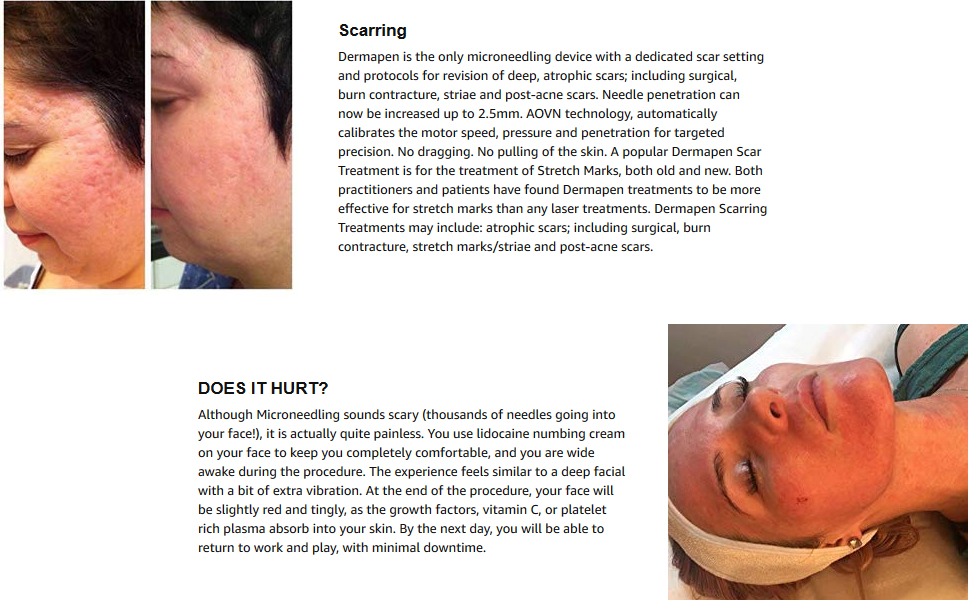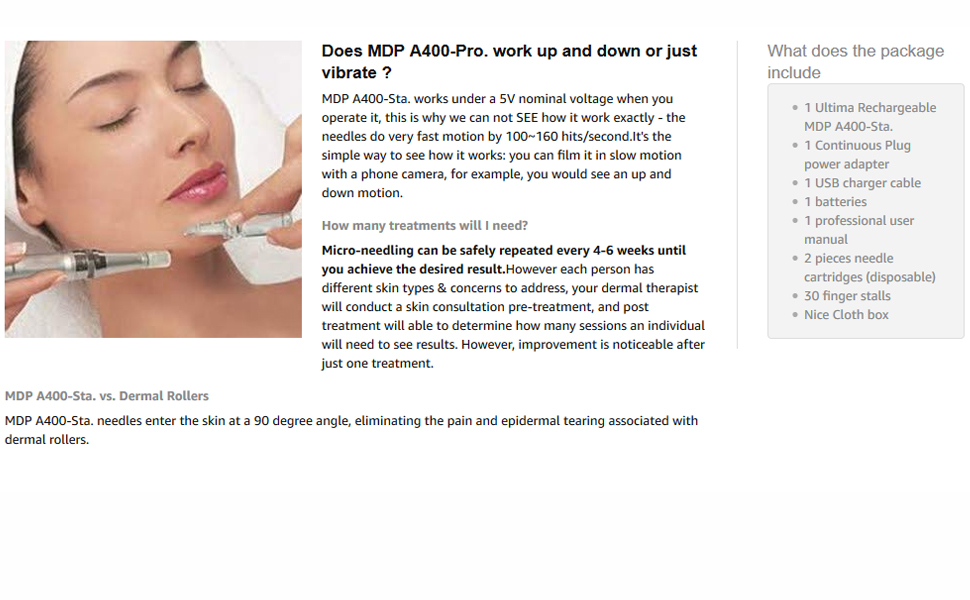 Question:
Do you use this on clean dry skin or do you use something to help the pen glide over the skin?
Answer:
it is good you use the derma pen with the Numb cream or Moisturizing and Ant-Aging Serum With Hyaluronic Acid, Vitamin C, Vitamin E ,which can make your skin feel better and make better effect.Thank you.
By KoiBeauty SELLER on 17 May 2016
Question:
Does this go in and out or just vibrate someone has wrote it just vibrates can you tell me
Answer:
The needles definitely go into your skin and the depth depends on the setting that you have it on.
By Amazon Customer on 21 August 2017
The needles definitely go into your skin and the depth depends on the setting that you have it on.
By carmen badita on 21 August 2017
This goes in and out,for the speed is very quick,so you can not see it clearly,we have video to show you this,Thank you
By KoiBeauty SELLER on 22 August 2017
It's needles rapidly move in and out, with the speed and depth dependant on which setting you choose
By Amazon Customer on 21 August 2017
Very good staff, strongly recomended
Bycarmen baditaon 24 September 2016
Verified Purchase
Very good staff , strongly recomended


Five Stars
ByAmazon Customeron 27 March 2017
Verified Purchase
Works good and nice packaging. Now I hope result will follow! Thanks fir all info pre purchase as well!


Seller was very nice and made sure I received my package
ByTeeon 16 December 2015
Verified Purchase
Seller was very nice and made sure I received my package, it well packaged and there was a postcard thanking me for my order and a small decorative koi fish. I must say I really like this product as its a lot less painful than a roller and just as effective if not more. I like the quality of this derma stamp pen, I've never owned one before but I am impressed with it so far. I love that you can adjust the length of the needles instead of fussing with multiple rollers to achieve same results. I found it easier to do my whole face with the derma stamp pen as the rollers are a bit too wide for areas such as between the eyebrows and along nose. I use my derma stamp pen with Hyaluronic acid serum and vitamin C serum.


Full kit, brilliant device, nice storage box and works great on lumpy or deep scars
Byberger20on 16 July 2016
Verified Purchase
The packaging was in a too tight (so it ripped) plasticy material sleeve.
It looked like it had been opened and considering it involved needles that was a worry.
Luckily the needles were all sealed; and I gave them a quick rinse and scrape before using.
Also I didn't trust the apple USB charger that came with it, might be real; but just didn't want to take the risk.
Far less painful than rollers, even on the longest and fastest setting.
Worked best on my most severe purple stretchmarks, shallowing them and making them invisible and on a hard internal lumpy scar.
Does seem to be as effective as my cheap roller on; wrinkles, shallow stretch marks, pigmentation issues and pores; more testing needed.
Finally get the screw one, the clip in type might fly out on the max setting, its rather powerful.
It is detaiiled and gives you an easy step by step guide oh how to use the ...
I was relieved there was an information leaflet enclosed in the box set. It is detaiiled and gives you an easy step by step guide oh how to use the MDP and how to treat each area. There wasn't enough detail on the Amazon page, which made me hesitant to buy, but the leaflet really compensated for that. I used the MDP on the same day it arrived ( it was in stock in Amazon UK. So I got it next day Prime delivery). it works perfectly, better than I expected. There's quite a few settings and directions you need to perform. I would suggest gently guiding the MDP over the skin with your preferred serum, keep reapplying the serum as the micro channels made by the MDP quickly absorbs the product. Too soon for results. However , I was red, warm to touch and slightly swollen after the treatment. I applied lots of moisturiser , however would have used a chill mask if I had one just to soothe the skin.
The replacement needle cartridges are individually sterile packaged. For replacement you will need to purchase the screw version.
Love it and would buy again
No doubt it's the best thing I have ever gotten in my entire life!
It came in earlier than expected in a box. I wasn't in the country for couple weeks so it was delivered to my relatives. I was contacted for confirmation of delivery by the company itself.
I used it twice already. After first time my skin tone became more even. I did not use any special cream or serum tho. My small scars on face have shrunk. I didn't have deep wrinkles but sure did have some small ones and they are certainly gone now. Used on lips and it made lips look younger and plumper. It's amazing how this tiny piece of
device
has changed my life.
I love this dermapen and certainly would recommend it to anyone, home-user or professional. It is worth every single penny!
Five Stars