Description

Customer questions & answers

Reviews

Special offers & Product promotions
This Facial Mask LED light therapy inducing 7 colors has good effective for the treatment of several aspects of the skin aging.Multiple studies have demonstrated Improvement of fine wrinkles, mottled hyper-pigmentation,tactile roughness and shallow.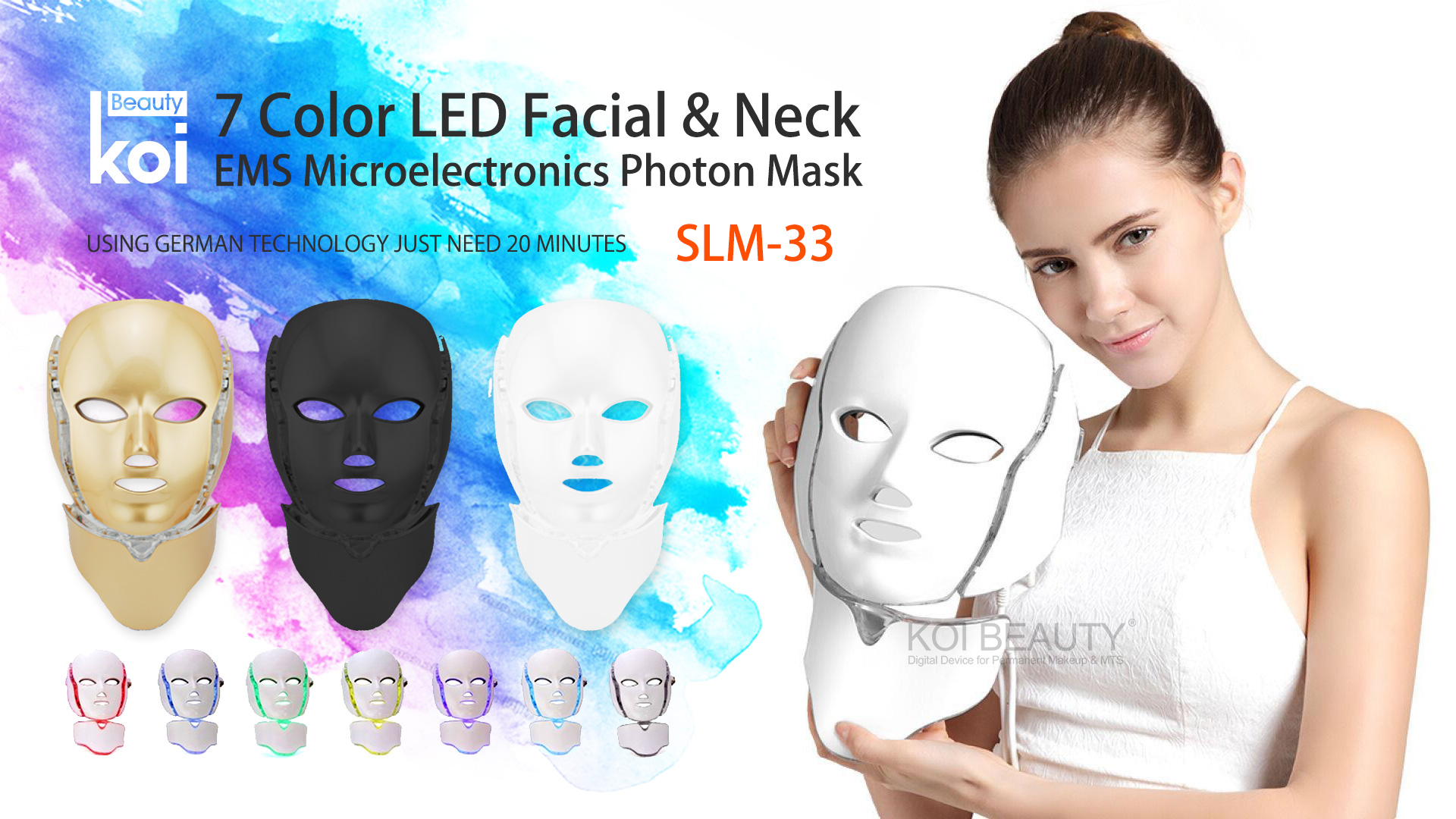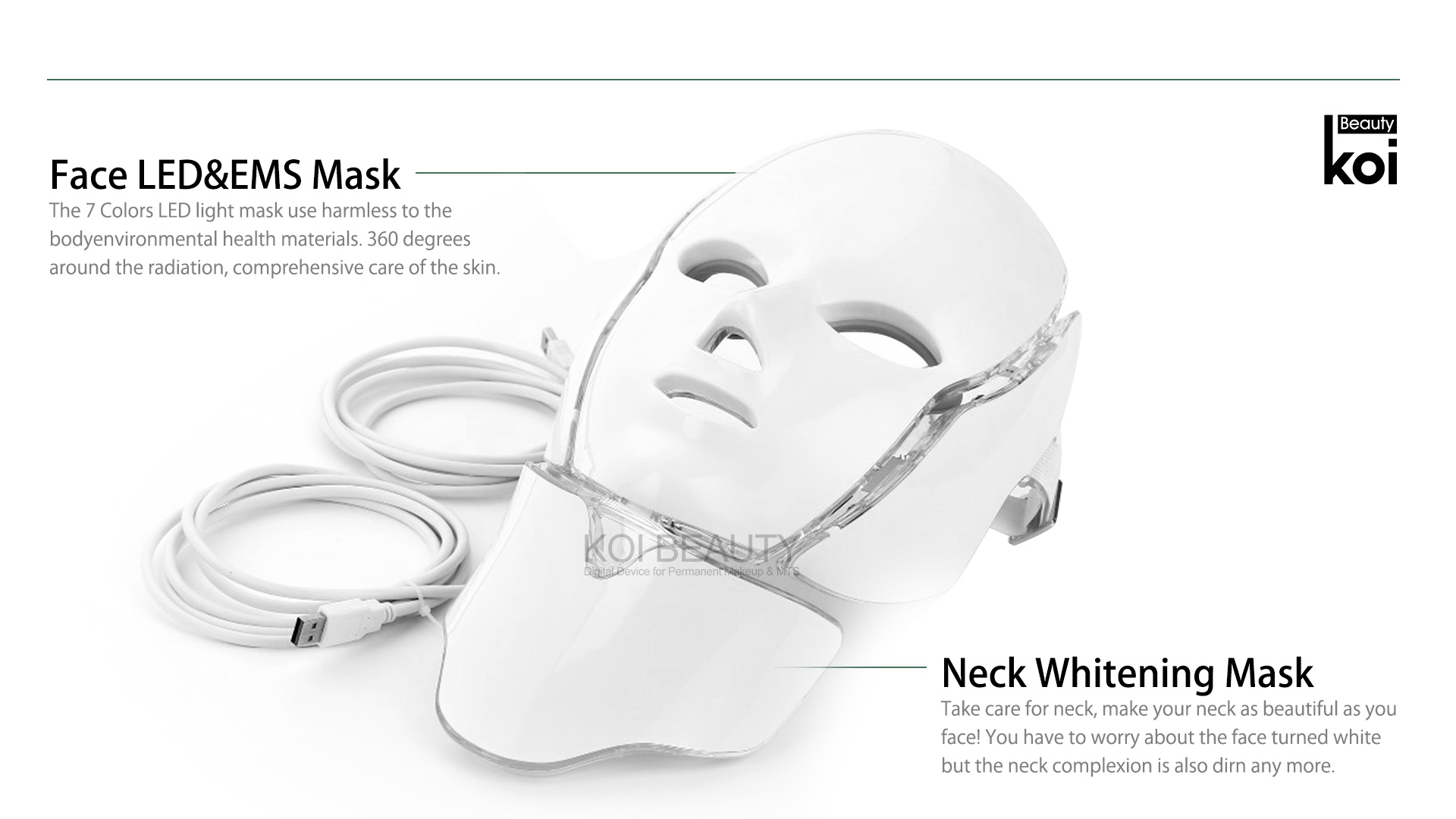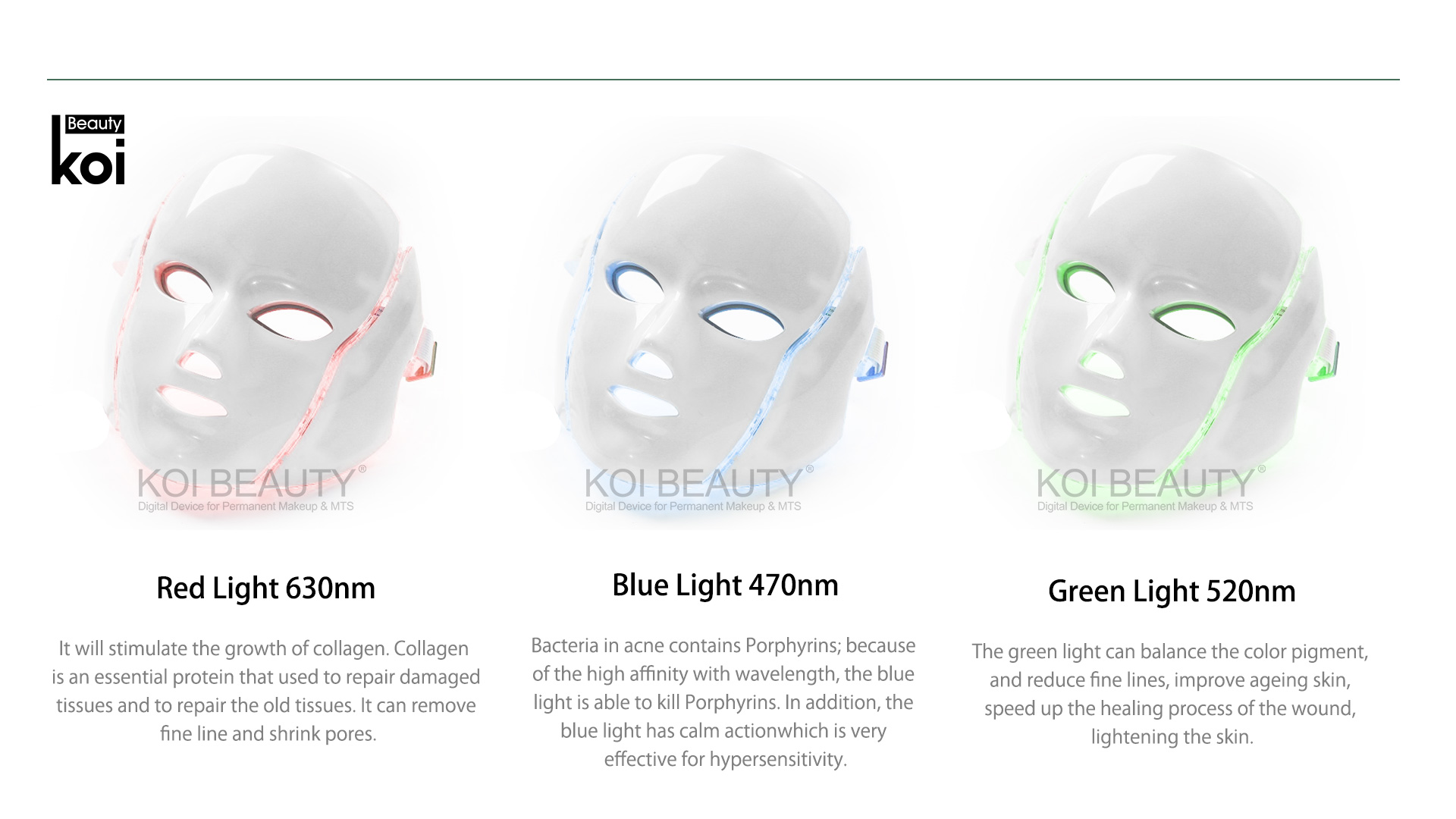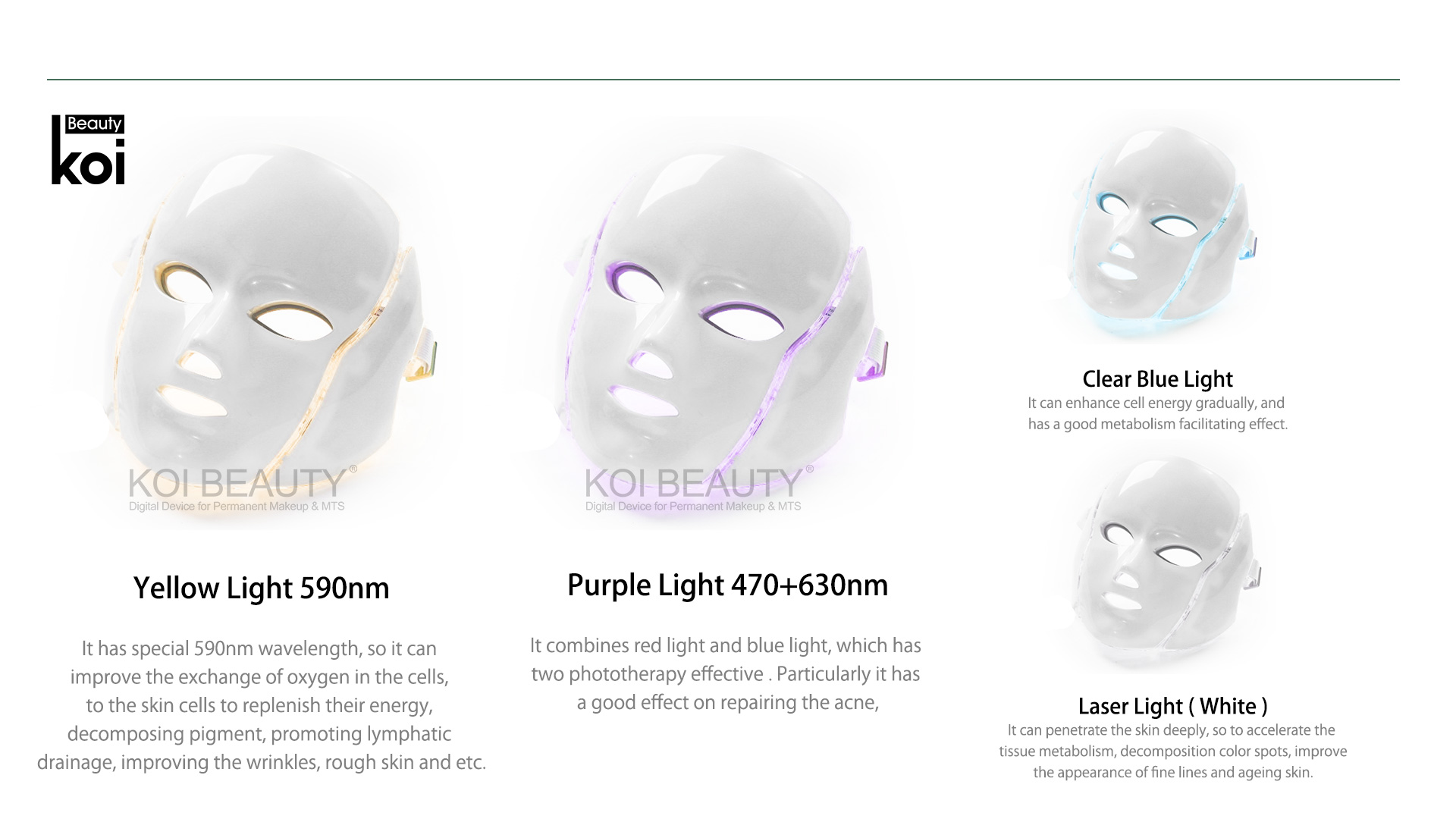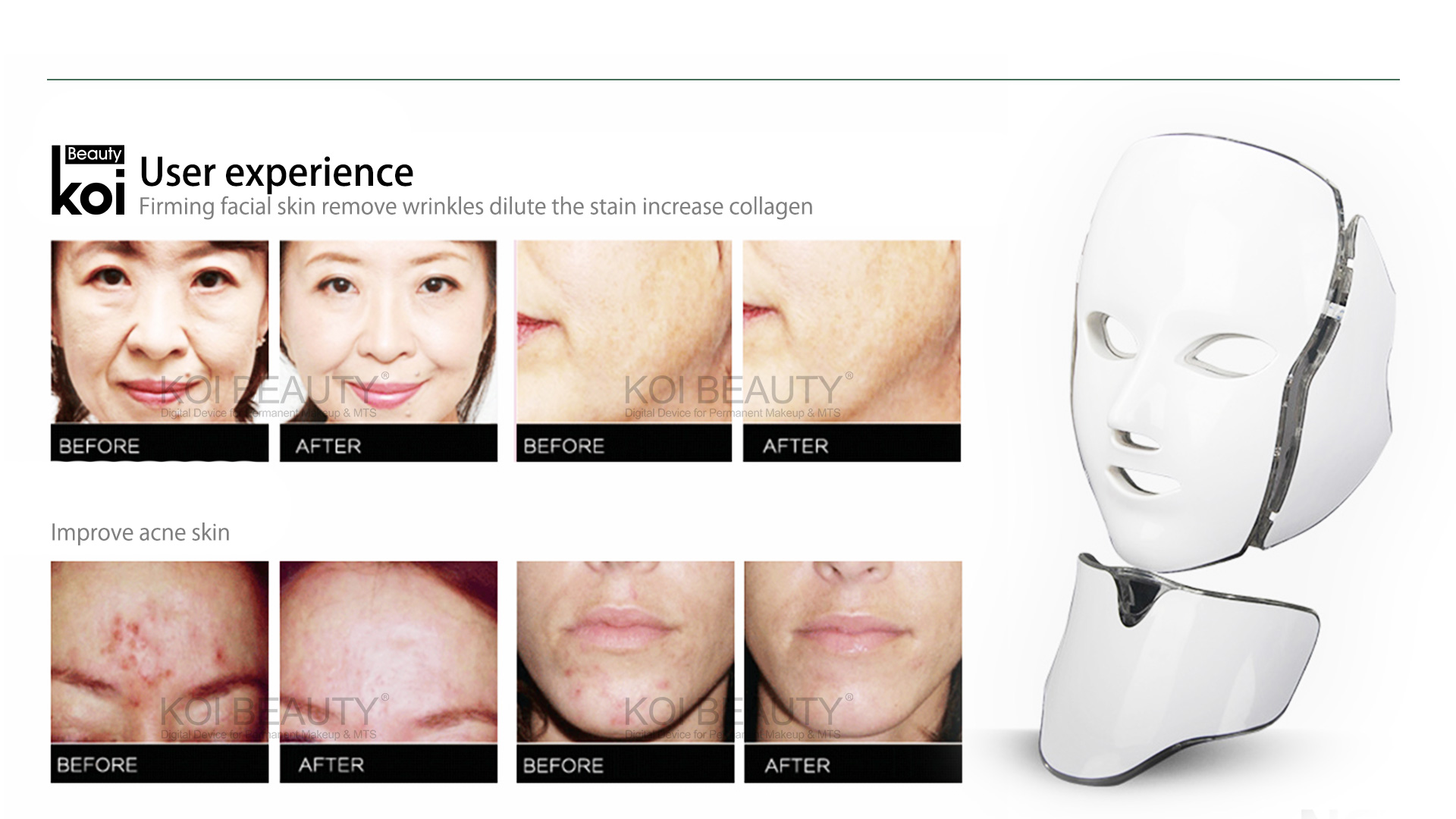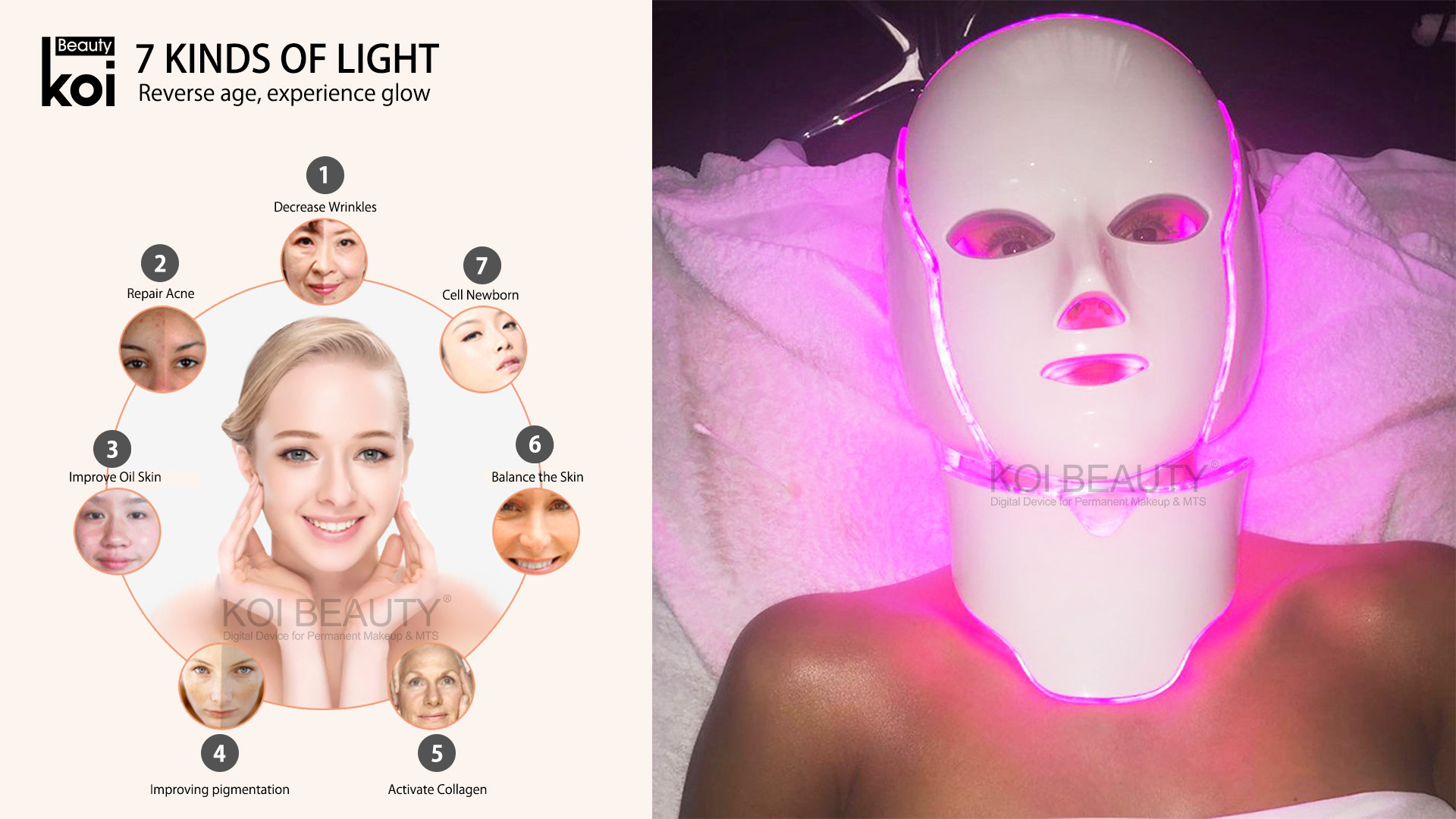 PRODUCT FEATURES:
FACIAL MASK & NECK MASK
: Unique design included
a facial mask and a neck mask.
You can care your face and your neck together, no longer have to worry about your face and neck looks like not a person

!


HIGH QUALITY: High-quality US imported 193 LED chips for best skin care and long life span.
EASY OPERATION: Easy to operate with full touch screen (3 programs included), simple and practical, no need worry about use problem.
CARRY EASY: Smart design to place the handles on the case. Whether you are traveling or on a business trip, you can enjoy it.
SAFE GUARANTEE: Non invasive treatment and totally safe.
ADJUSTABLE DESIGN: Adjustable the size according to the face, make a more comprehensive skin care process.
PRODUCT FUNCTIONS:
- Clear, lighten, smooth the skin
- Firm and enhance skin texture
- Reduce and prevent wrinkles, helps fight fatty areas
- Improve skin elasticity
- Minimize Pores
- Balance skin tone
- Enhance circulation
- Inhibit the formation of melanin pigment
- Fight acne
- Accelerate blood circulation
Red(~650 nm)--- One of the most powerful colors to increase blood circulation. Stimulate skin cells to excrete collagen to achieve firm and smooth texture.
The red light penetrating 8-10mm is suitable for any type of skin; it can reach derma to stimulate fibre cells. Heating can improve blood circulation and collagen albumen hyperplasia to reduce wrinkles and make skin more elastic and smooth. The mild wave length is suitable for surrounding eyes and forehead.
Blue(~463 nm)---Excellent effect of curing acne, kill bacteria, improve sensitive skin
The blue light penetrating about 0.5mm has the function of calming against skin rashes; suitable for the skin which is sensitive, oily and with skin rashes. It can adjust skin sebum secretion, effectively get rid of acne and whelk to reach the aim of beautification. Besides, the blue light can astringe and tighten loosened skin.
Green(~527 nm)---Anti-aging, smooth wrinkle and fine lines, cure wounds
The green light between red light and blue light is suitable for mixed skin. It can improve the function of alternating use of cells and oxygen and activate the microcirculation function of body surface. Meanwhile, calming the skin can make both body and skin relax, and reduce the pain of skin.
Yellow(~590nm)---Smooth the skin
It has special 590nm wavelength, so it can improve the exchange of oxygen in the cells, to the skin cells to replenish their energy, decomposing pigment, promoting lymphatic drainage, improving the wrinkles, rough skin and etc.
Purple(~425 nm)---Relaxing, improve lymph metabolism
The purple light can strengthen the protein fiber tissue, shrink pores, at the same time ,Eliminate face yellow, wrinkles, premature acne -prone skin;
Accelerate the blood circulation function, promote the activation of skin tissue.
Laser light (~white)----Balance skin tone, accelerate blood circulation
It can penetrate the skin deeply, so to accelerate the tissue metabolism, decomposition color spots, improve the appearance of fine lines and ageing skin.
Light Blue(~490 nm)---Soothing, prevent allergy to desensitization, and so on.

HOW TO USE?

Take picture
Before you use your skin led for the first time,it is very important to take a picture of the area you will be addressing.Improvements generally take place in small increments and can be difficult to see light and duplicate the exact lighting again when you take your 'after' pictures

Wash your face
Wash your face with good quality skin care product before using the skin led.Although optional,results will be more dramatic if used with a high quality skin care product,products containing vitamin A,should only be used after using your skin LED as these products may block the LED lights from penetrating into the skin
The skin led is most effective if used daily on the affected areas.Teenagers, please be patient and use your skin led everyday, the skin led system should be used daily up to 30 minutes, once the skin is clear continue to use your skin led daily if possible to kill any bacteria causing spots.Use it while doing homework,watching TV, on the Internet. make your skin led a part of your daily lifestyle.





SAFE NOTIFICATION:





To enhance your skin led,innovate photonics,recommends seeing a qualified dermatologist or esthetician along with a good topical acne product.Topical acne product should NOT be used before using your skin LED,but can be applied afterwards



CUSTOMER SUPPORT:

Your satisfaction is our first priority. If you are in any question about your purchase, please feel free to contact us through email.
we will give the answer within 24 hours normal. Sometimes have a little delay due to the weekends or holidays.We are committed to ensure that you are are complete satisfied with every transaction.Thank you and have a nice time in our store!
Question:

Question:
Is it necessary to wear the goggles under the mask?
Answer:
Hello Julie,
Greetings from Newkey
Thank you for your questions.The goggles and Brackets are just accessibility tools which help you be more comfortable in using our LED Mask.
Some people like them and use them,some do not.It depends on you.Hope what I said can be helpful to you. see less
By Koi Beauty SELLER on January 7, 2017
Question:
How often should the mask be used? Is daily ok?
Answer:
If your skin condition is good,we recomend you to use our device once or twice a week.If you have skin problems or you need to improve your skin,daily use is the best choice.Because our device do not have side effects to your skin,so please do not worry.You can enjoy it at any time.
By Koi Beauty SELLER on December 4, 2016
Question:
Do you have to use lotions or creams under this mask
Answer:
No. You should only wipe your face clean and let the light do its work. Afterward you can wash you face to see the results
Roxanna answered on May 30, 2017
No I do not
Joyce D. answered on May 30, 2017
Question:
Is there a version of this for men?
Answer:
This mask is designed both for women and men.
By Newkey SELLER on April 26, 2017
she seems to be very pleased. Easier to use than the hand held products ...
This was a gift for my daughter. So far, she seems to be very pleased. Easier to use than the hand held products and saves time as well.
Supper Love!!!!!
Absolutely love this product.The seller is serious with their product.I tried several similar led masks before,and the heavy weight makes me feel uncomfortable.But After I get the NEWKEY LED MASK,I do not have any problems.Their Mask size is even bigger than others,and I received special goggles,and 2 pair of stents for my comfortable spa.
Five Stars
Does the job I can see the deferents on my skin
Love it!!
Love it! After using for two weeks I saw an amazing different in my skin
So glad I purchased this mask
So glad I purchased this mask. It seems larger than others, covers my whole face. I don't use any of the attachments, just hold it to my face for 10 minutes for a few colors everyday.
Works!
I use this 3 times a week while I sit in my infrared sauna. I plug in binaural brain wave music, put on my LED mask, spend 30 minutes in the sauna, and feel like a new person. Plus, I have really noticed a difference in my skin!

HWA02QWWMVUVM