Description

Specifications
INTROFILL – SKIN NUTRIENTS DELIVERY SYSTEM
Introfill is an auto-injecting device designed to deliver rejuvenating ingredients directly into the skin. The benefits multiply as the process of the needling itself stimulates collagen by promoting wound healing.

WHAT OPTIONS FOR INJECTABLES WITH INTROFILL ARE THERE?
It is generally used for HA (Hyaluronic Acid), PRP your own (Platelet Rich Plasma) Vitamins, muscle relaxers and placenta injections.We currently inject PRP (Puraplas) and a hyaluronic acid cocktail called NCTF135 which also contains, vitamins, amino acids, co-enzymes, nucleic acids, minerals and antioxidants.

WHAT ARE THE BENEFITS FOR MY SKIN?

Smoothing
Tightening
Reduces pore size
Softens wrinkles
Hydrates

HOW DOES IT FEEL?
Some people find this treatment comfortable enough without an anesthetic cream to numb the face before injections. For your first time , we recommend using the cream. You will feel, the tingling of the needles entering the skin and some heat.
HOW MANY TREATMENTS DO I NEED?
It is recommended that you have 3 treatments spaced 1 month apart and one treatment every 6 months for maintenance.
WHAT WILL I LOOK LIKE AFTERWARDS?
Most experience redness, and pinpoint bleeding (Petechiae) some micro-bruises and some swelling. Most of these side effects resolve in 3-7 days.
WHAT DO I NEED TO DO BEFORE THE TREATMENT?
Avoid red wine & aspirin a for few days prior to your treatment. If you are on blood thinners and can't stop them for a few days, you can expect some pinpoint bleeding and possible bruising.
WHAT IS THE AFTERCARE?
Use only the skin care that your consultant recommends to maximize your results and wear sunblock.
HOW LONG UNTIL I SEE MY RESULTS?
After about 30 days, your skin cells will turn over and your results will be more apparent. The benefits will increase over the following 2-3 months as your own collagen grows.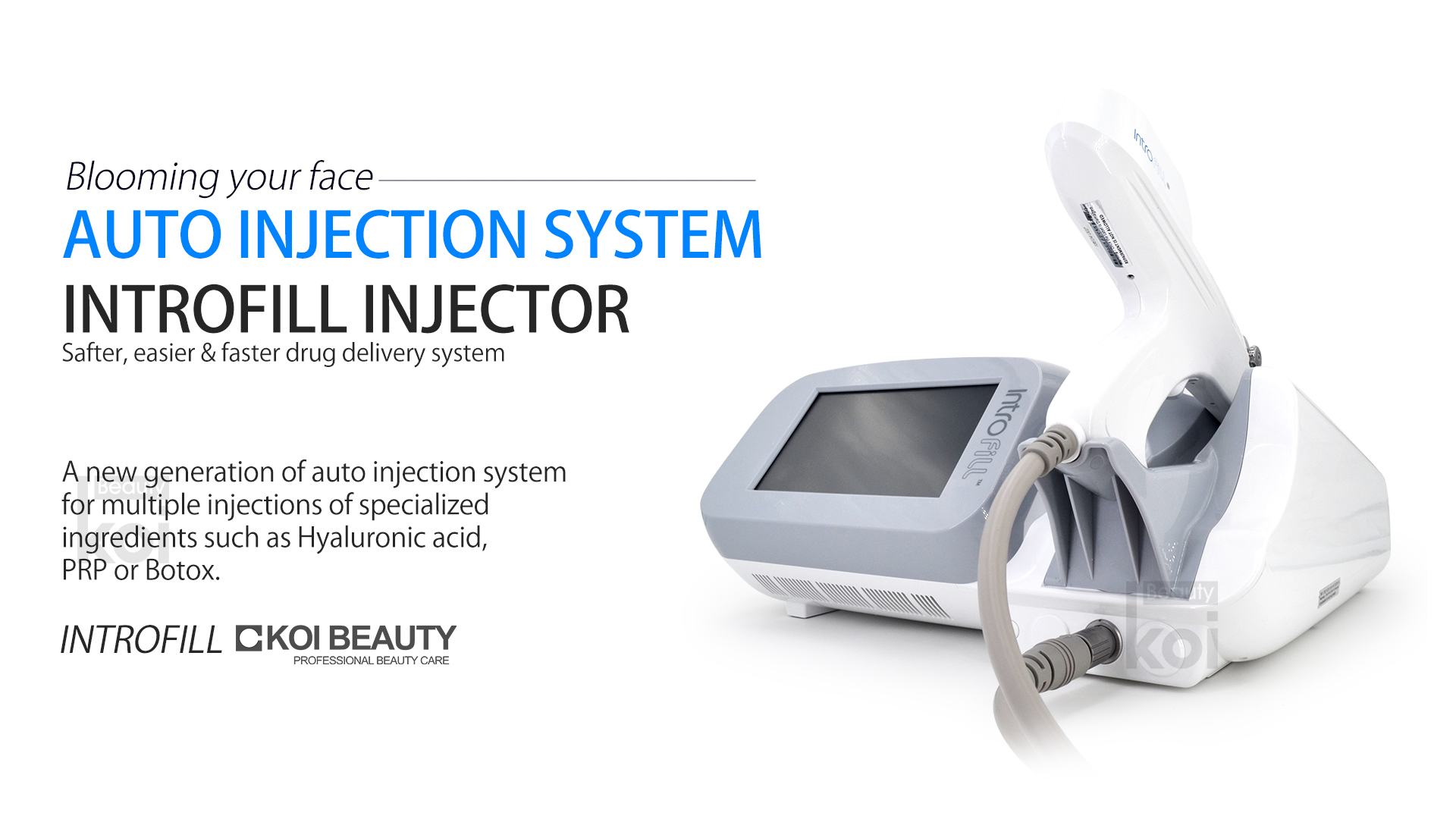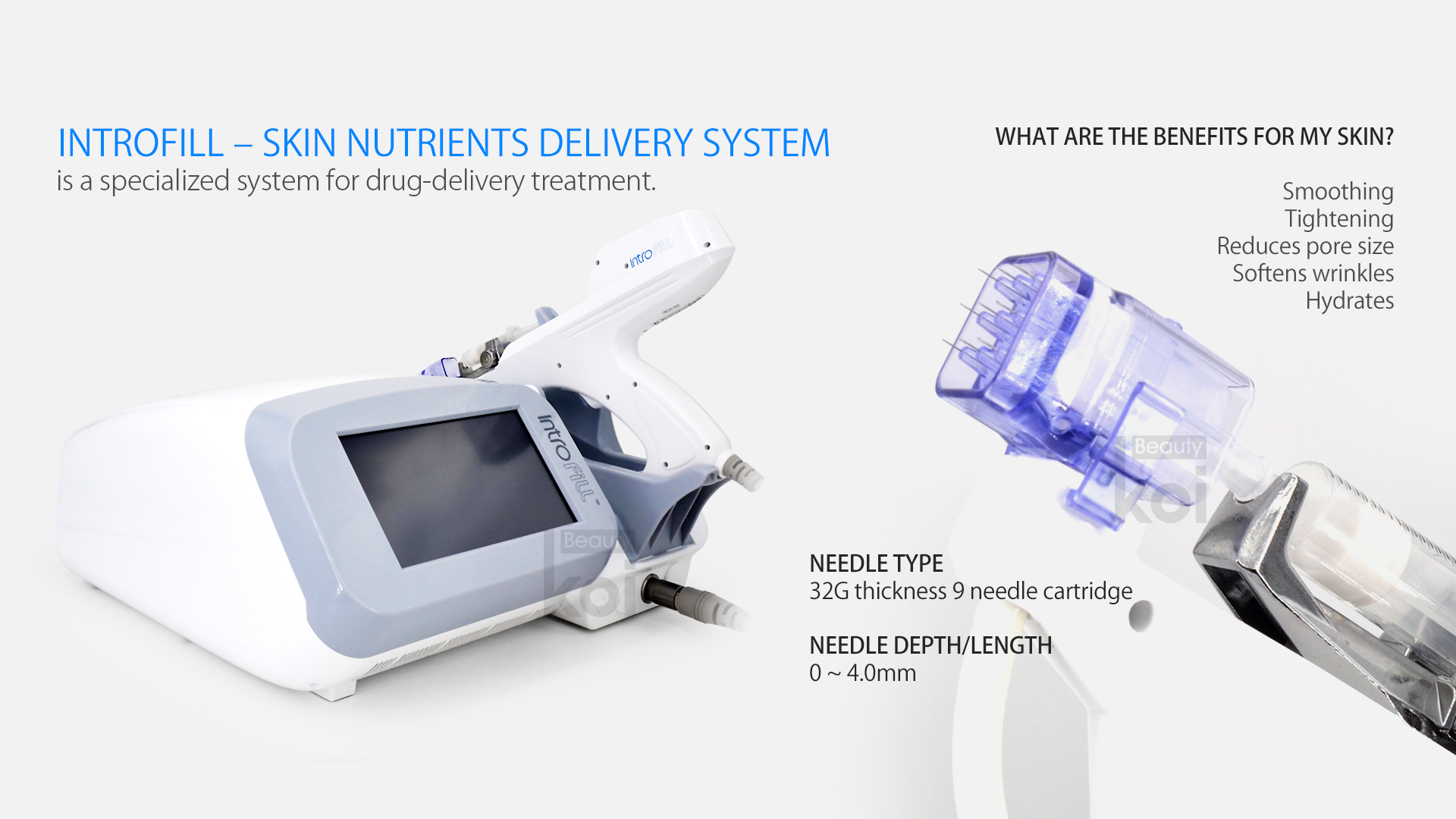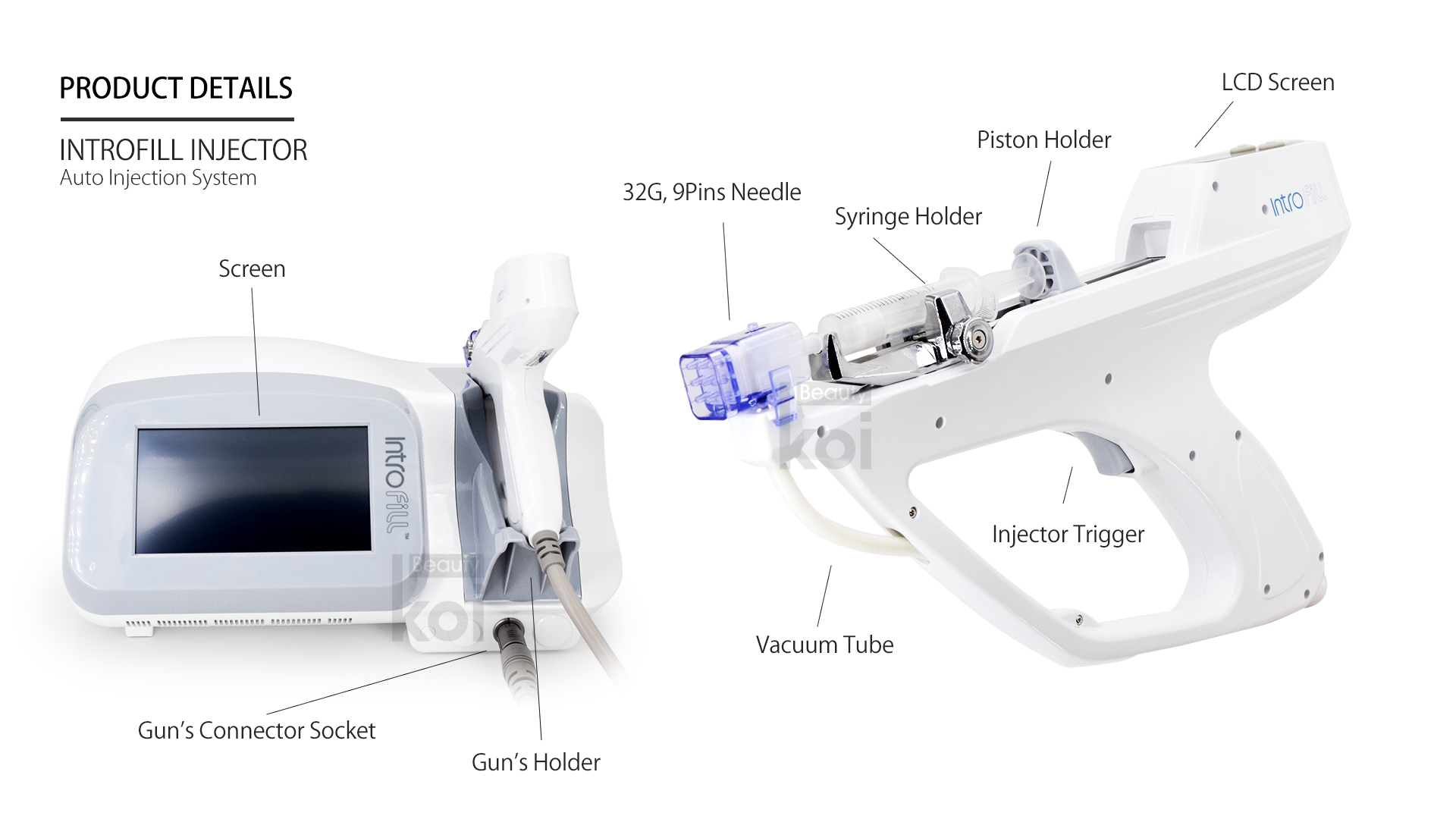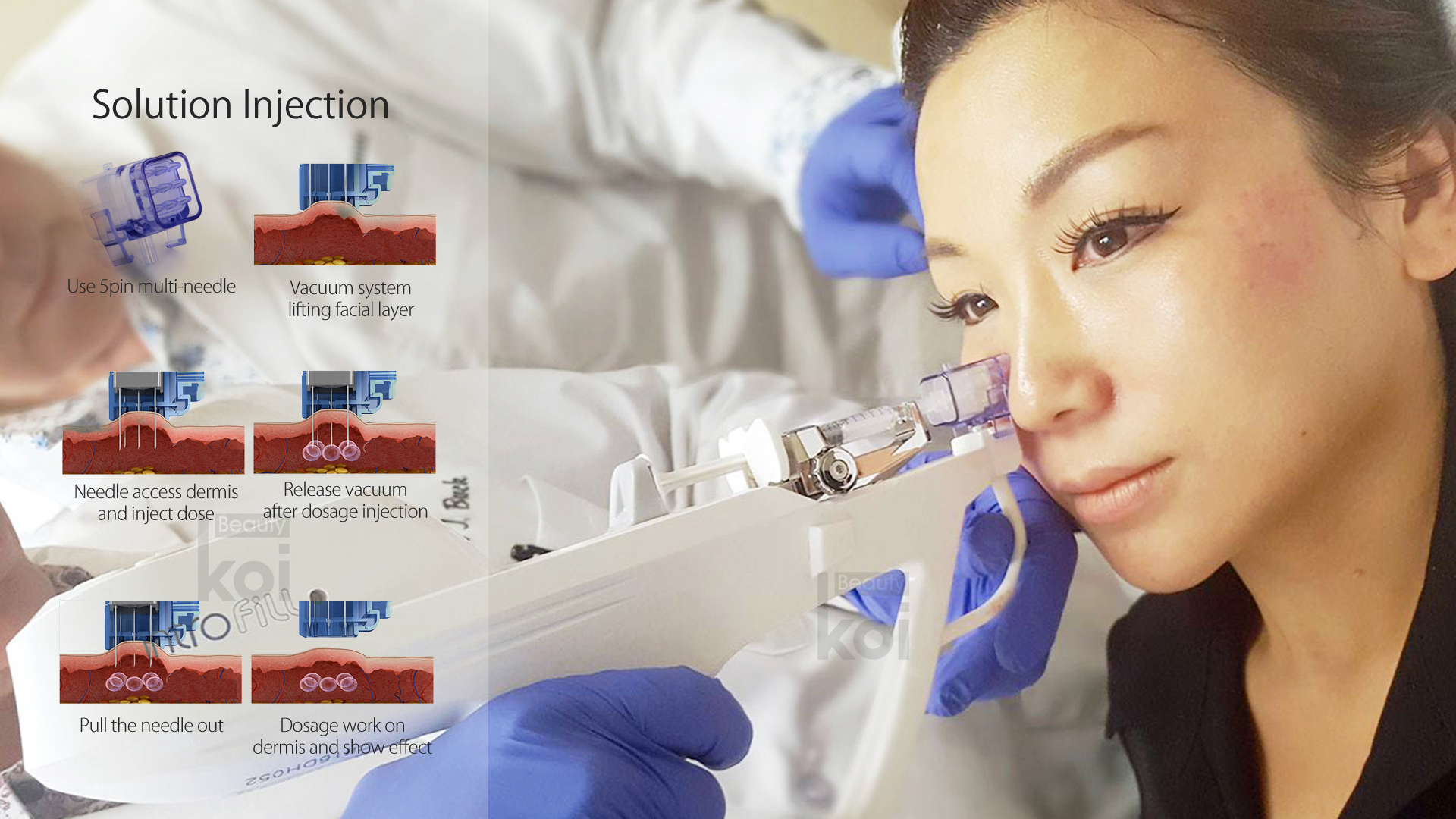 Parameter
Machine offer details operation video and guidance. One year warranty, we charge for quality problem within one month.
Product Details

Type

Auto Injection System INTROFILL – SKIN NUTRIENTS DELIVERY SYSTEM

Injection Type

Vaccum available

Needle Information

32G, 9Pin Multi-Needle (IF-9)

Needle Depth

0 ~ 4.0mm, 0.2mm step

Operation Mode

Auto Inject, DOSE, CONTINUE

Syringe Type

1ml, 2ml, 3ml, 5ml

Panel

Injector LCD : 1.4 Inch
Body LCD : 7 Inch, Touch Panel

Operation language

English

Voltage

AC 90-264 VAC, 47-63Hz, Power Consumption: 264W

Dimensions

Injector : 31 x 4.5 x 14cm
Body : 36 x 31 x 12.5cm

Weight

10Kg (Body + Injector)

Used For

IntroFILL is a power tool to inject a medicinal fluid to a patient in a constant pace.

Packaging Details

Machine Package : W53 × L40 × H48cm, G.W.: 15Kg

Accessories
| | |
| --- | --- |
| Main Body | 1pc |
| Gun Board | 1pc |
| Air Filter | 1pc |
| Cleaning Bottle Hose | 2pcs |
| Cleaning Bottle | 1pc |
| Silicon Hose | 10pcs |
| User's Manual | 1pc |
| AC Power Cable | 1pc |

Advantage of IntroFILL
1). Auto Injection System - Short time (whole face: 15-20 minute)
2). Dermal absorption of nutrients should be added up to 98.3%, 68.3% higher than the traditional complementary therapies;
3). Injection is simple and convenient.
4). Pain slight – 32G needles, 9 pins

IntroFILL Warranty & Services:
One year warranty, we charge for quality problem within one month. Each machine with unique security code.
Train video and document will be offered. As customers needed offer brochure for clients who sitting on waiting room.